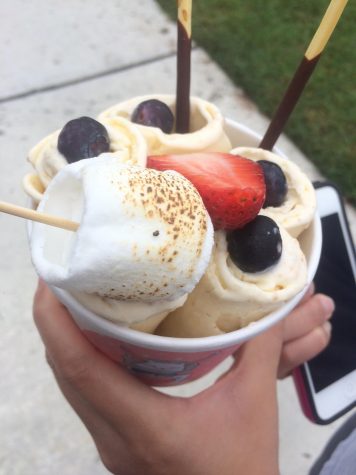 By Vicky Gunawan, Contest Manager

October 3, 2016
Class 520, a popular dessert hangout, just opened in Rockville. The shop sells Thai ice cream rolls, a trend that is popular in New York and other major cities, and has now been brought to Maryland. Thai rolled up ice cream is made on an extremely cold metal circle. The liquid base is ma...
By Nathan Deychman, Sports Editor

September 29, 2015
Not all heroes wear capes. Some wear collared shirts and hand out snow cones. Forooz Amini, better known as Fred, sells ice cream at many of Potomac's pools and schools, including Regency Estates and CHS. He has become a staple in the community through his reputation for high-quality customer service...
Friday, January 24

Boys Basketball

Winston Churchill High School 55 - Whitman 56

Friday, January 24

Girls Basketball

Winston Churchill High School 53 - Whitman 33

Wednesday, January 15

Boys Basketball

Winston Churchill High School 62 - Whitman 58

Wednesday, January 15

Girls Basketball

Winston Churchill High School 72 - Whitman 29

Friday, January 10

Boys Basketball

Winston Churchill High School 64 - Wootton 50

Tuesday, January 7

Girls Basketball

Winston Churchill High School 65 - WJ 30

Friday, January 3

Boys Basketball

Winston Churchill High School 72 - Einstein 35

Wednesday, December 18

Girls Basketball

Winston Churchill High School 67 - Kennedy 14

Friday, December 13

Boys Basketball

Winston Churchill High School 61 - Springbrook 71

Friday, December 13

Girls Basketball

Winston Churchill High School 74 - Springbrook 12

Tuesday, December 10

Girls Basketball

Winston Churchill High School 59 - Urbana 26

Tuesday, December 10

Boys Basketball

Winston Churchill High School 69 - Urbana 60
The Churchill Observer- May 2018