Student Art Spotlight: Alex Zarynow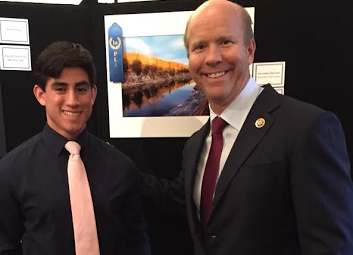 For some people, it's all about the music, the dance moves or the food. However, for senior Alex Zarynow, it's all about the pictures.
Although he is in Photography 1, Zarynow is self-taught and began taking photos during his junior year at CHS. Ever since, he has won awards, such as in the Congressional Art Competition, and garnered attention in the community for his photos.
"I am inspired by the little things in life," Zarynow said. "I love details and trying to see the little things that no one else really notices."
Zarynow focuses on reality, and his captions are based on either his own thoughts or the subjects he takes photos of.
"I take real life pictures more than abstract because there is beauty in our reality that most people just don't see, and I want to show them what it is they are missing," Zarynow said. "Anyone can take a photo of something random and abstract, but it takes the right eye to see real life."
According to Zarynow, his captions are based on his emotions of that photo and the emotions he wants the viewer to get from the photo.
After only about a year and a half, his photography has developed into a new stage; one of Zarynow's pieces, titled "Gentle Reminders," won the Congressional Art Competition hosted by Congressman John Delaney. The photograph, of the canal at Great Falls in Maryland, will also be featured in the United States Capitol for one year.
Moreover, his photography has been showcased at Johns Hopkins University at Shady Grove during its "Color Me" photo contest.
With such success after a short period of time, Zarynow credits his friends and family for helping him reach new heights in his work.
"My friends and family have been a huge part of my work," Zarynow said. "Whether they help me come up with ideas, be my assistants on photo shoots, let me use them as models, or critique my work so I can become better, they truly have been the backbone of my photography and I can't thank them enough."
According to Zarynow, Vincent Van Gogh is his favorite artist because of the intricate, meaningful details that his paintings have, and the way that every detail is significant to the overall effect of the piece.
Zarynow's first photography teacher, Amy Gilbert, enjoys having him as a student.
"He's very passionate with getting his work to look the way he wants," Gilbert said. "He has great ideas and works really hard to make them the way he imagined."
Fellow photographer and senior Lucy Bedewi has been working closely with Zarynow for various projects, from Consensus to Midnight Writers.
"Alex is pure passion," Bedewi said. "Everything he does comes from his heart, especially his photography. When he is behind the camera you can feel his love and commitment both during a photoshoot and again when you look at the beautiful photo he creates. Alex as a person, separate from his photos is kind, generous, loyal and the best friend you could ever ask for."
Zarynow plans on pursuing his passion at Slippery Rock University, as he will be minoring in the fine arts.