Israeli chain Aroma promises quality food, coffee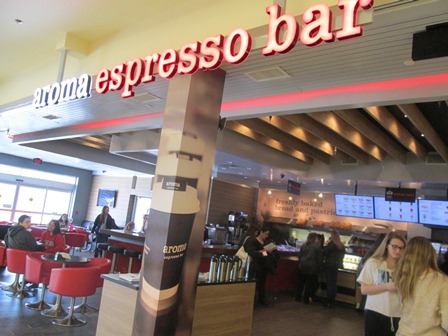 Spring is approaching, but it might not be just the flower blossoms that brighten up everyone's day.  CHS is obsessing over caffeine—whether in the form of a sweet iced coffee or a sudden jolt of an espresso.
The Aroma Espresso Bar, which opened in Montgomery Mall in February, is an Israeli espresso and coffee chain with multiple branches all over the world and United States.
"There aren't any surprises here," senior and Aroma employee Alyssa Chechile said. "People come for a good coffee-drinking experience where coffee tastes like coffee."
Aroma has been a recent fad at CHS. Students often go to hang out with friends after school, and some seniors try out the assorted sandwiches as an alternative to going to Qdoba or Subway during lunch.
"Subway is kind of plain and Aroma is an actual café that has so much more to offer," senior Carly Gertler said. "There is tons of variety rather than just a boring sandwich and cookie."
According to Chechile, the Iced Aroma is the café's most popular drink.
"Every other customer orders one even though it's cold outside," Chechile said. "I have to admit though, it is really good."
According to junior Tali Preuss, the Iced Aromas are famous for their great taste even though they do not have as much caffeine in them as regular coffees or espressos.
Exotic drinks such as the Dirty Chai are not the only delicacies Aroma offers.
"I love the chocolate croissants," Chechile said. "They have the perfect amount of chocolate in them, and it's good chocolate too."
According to Preuss, students can choose the type of bread they want for their assorted sandwiches like the Mozzarella.
"It's like a little slice of Israel right at home," Preuss said.
Aroma is becoming a competitor with Starbucks  because of the number of CHS students who have a special place in their hearts for the espresso bar. After trying Aroma in Israel this past summer, both Preuss and Gertler were convinced to check out the café at the mall.
"I would hang out with my CHS friends at the Aroma bar in Israel," Preuss said. "You can't go there without seeing someone you know."
Not all students are feeling the Aroma craze, however. Senior Christopher Gauch still prefers original restaurants to the new fad.
"Other cafés like Nordstrom's café and Corner Bakery have a slightly more upscale feel to them, and can give you more or less the same items," Gauch said.
Regardless, both Preuss and Chechile believe Aroma offers both good quality food and coffee that few places are able to offer.
"There aren't any surprises here—everything is natural and I think that is what makes it special," Chechile said. "It's a great tasting, healthy restaurant which you don't find many of these days."