Authentic Chinese food restaurant opens in Rockville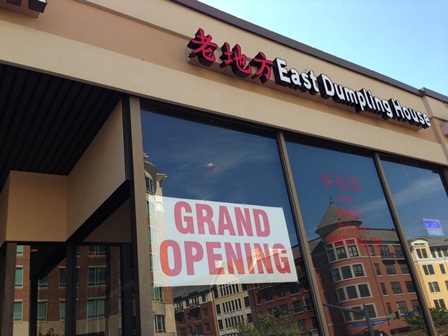 Although it seems that there is at least one Chinese restaurant per corner on any given street, diners have yet to experience authentic Chinese street market food—until they go to the East Dumpling House, which opened in Rockville April 4.
Upon entering the café, diners will feel as if they have been transported to China. The décor is Asian-oriented, with Chinese calligraphy covering the walls and chairs and a large Asian-style arch hanging over the cash register.
Unlike many other Chinese restaurants, this dumpling house hand-makes its dumplings from its own dumpling skins, rather than buying them from the nearest supermarket.
"We try to bring 100 percent original, authentic Chinese taste [to the table]," co-owner Hong Ren said.
Just like the scrumptious dumplings the House is known for, its tofu products are also made from scratch and according to the style in the Northeast regions of China.
"Many customers come back and say that they felt like they went to China when they tasted the food," Ren said.
It also offers a wide selection of Chinese cuisine including soups, cold dishes and kabobs.
Chinese kabobs are generally found in New York, but the East Dumpling House offers incredibly savory kabobs. Coming right off the grill, they are served fresh while still hot and sizzling.
According to Ren, the restaurant features food that she had in Harbin, China as a child. Harbin, found in Northeast China, is known for its bread, which the restaurant incorporates into its menu by making the dough of the dumpling skins similarly to Harbin's famous bread.
The dumpling house is perfect for those who want to grab a quick and inexpensive meal. At the cash register, customers can purchase a smoothie made with real fruit or bubble tea. Take out is also available, and customers can call in advance to place their order.
Since the restaurant is right on the outskirts of Rockville Town Center, parking may get crowded during lunch and dinner hours. Guests can scan their parking tickets at the cash register and receive free parking for two hours with validation.
The East Dumpling House is the place to go for food lovers with a taste for homemade dumplings and other authentic Chinese cuisine.