New pie shop opens on Georgetown's M Street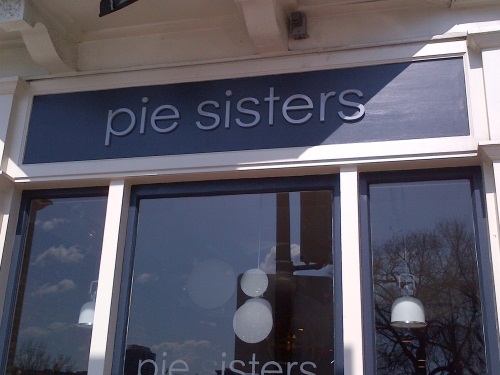 In the midst of the cupcake craze, dessert stores have opened on every corner. Well, it's time for something new and original, and that's where Pie Sisters steps in.
 Georgetown's Pie Sisters is locally owned by three sisters, Alli, Bear and Cat Blakely. The Blakely sisters grew up baking pies with fruit handpicked in their own backyard and had always dreamed of opening up their own pie store.
 "Pie is very homemade and traditional," Alli said. "People have more of a connection to pie."
 The store has a homey feel with the smell of fresh pies baking in the oven. The sisters make their homemade pies starting at three a.m. and constantly bake throughout the day. The store always offers eight or nine classic flavors with a few of their own original flavors thrown in.
 According to Alli, most of their recipes came from their mother or were developed by the sisters. In order to expand their types of pies, the sisters are planning contests in which consumers send in their own pie recipes and the best pie wins a place on the Pie Sisters menu, where it will be named after its creator.
 However, Pie Sisters does not seem to need any help when it comes to baking delicious pies. The classic pecan pie has the perfect consistency between crunchy and soft filling while the crust is beyond satisfaction.
 Besides being able to please one's sweet tooth, Pie Sisters offers more meal-type pies, some of them being the killer chili pie or the mouthwatering chicken potpie. No matter what people order they will always be pleased.
 Overall, Pie Sisters' new take on desserts is successful. It's a change from the usual cupcakes and brings new innovation and flavors to the food world.
 "We were always pie girls," Alli said. "When we grew up we decided we would bake pies. It was meant to be."