Students spread the holiday spirit through Secret Santa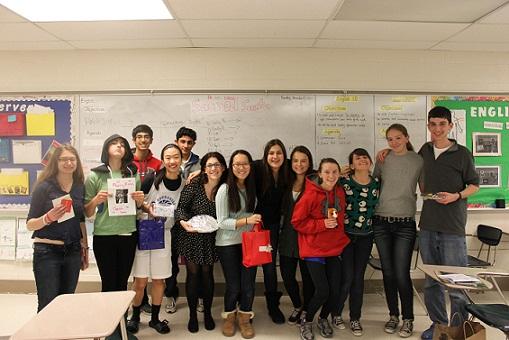 You better watch out, you better not cry, you better not pout.  I'm telling you why.  Your Secret Santa is coming to town.
Now that Thanksgiving has passed, red and silver decorations have begun to pop up everywhere.  CHS students embrace the holiday season by participating in gift exchanging games among their friends, called Secret Santa.
Secret Santa is a gift exchanging system in which a group of people select names out of a hat.  Once everyone has picked their person, they are not allowed to reveal whom they have until the day they exchange gifts.
"It's something fun to do with friends during the holiday season and a way for everyone to get little gifts without buying each one of your friends a gift," junior Samantha Cooper said.
Throughout CHS, one might see a person in more than one group.
"I'm in two groups this year," junior Sara Chang said.  "I gave actual gifts this year but funny gifts are great because everyone gets a kick out of them."
Many Secret Santa groups involve their best friends and have figured out over the years what the best gifts to give are and what people enjoy most.  Also, in order to make the gifts worth the same amount, each group picks a price range that can range from $15 to $40, or whatever price the group chooses.
"It's always hard to know what to gift a person, but there are usually some basics that I think most people would like," junior Hana Yen said.  "Winter essential like hats and scarves, for example, are always nice.  You can also never go wrong with giving a few smaller items rather than one big gift because the likelihood of gifting something your friends would like goes up."
Once each person has picked the perfect gift, the group picks an exchange day, each group exchanging in their own unique way.  Some examples include going one at a time or everyone opening their gift at once.  Some groups will exchange gifts at school during lunch, but some groups exchange gifts at one of the member's house.
Although some may think that only girls participate in Secret Santa, there are guy groups who do participate in Secret Santa because they see the girls having fun when exchanging gifts.  These guy groups typically do the same type of process as a girls group would.
"We decided to do Secret Santa because we wanted to be as cool as the girls," junior Alan Ha said.
CHS is a very popular forum for these Secret Santa gifts of friend groups of the grades and in classes, and are meant to instill joy and cheer in the hallways of the home of the bulldog.
"I think everyone likes giving and getting gifts, and Secret Santa is the best way of sharing that concept with all your friends," Yen said.  "It's perfect for the Holiday, and honestly, it's just fun."