'Auntie Mame' director begins working with cast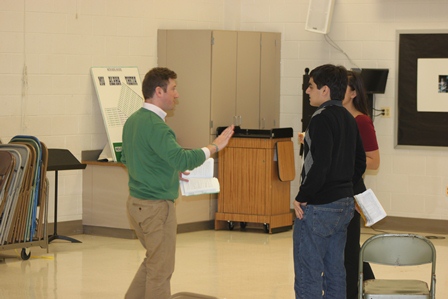 CHS continues to make sweeping changes across its performing arts department due to various position openings.
The administration has filled former drama teacher and director Lynda Scionti's teaching position, begun rehearsals for Auntie Mame under new direction and hired a stage director for Auntie Mame.
"The future is bright and with our new staff members, I think they're going to bring a great deal to that stage, and I'm excited," Principal Joan Benz said.
CHS recently hired Scott Courlander to fill Scionti's position after Scionti resigned in mid-September.  Courlander will teach Theatre 1, Theatre 2, Film and TV Production.
Courlander studied acting at The New Actor's Workshop in New York and became involved with the Upright Citizens Brigade Theatre before returning to Maryland and beginning his own theatre company, Red Knight Productions, in 2011.
According to Courlander, he is most looking forward to cultivating "a strong theatre community" at CHS.
Courlander has also been hired as the director for Auntie Mame.  While rehearsals began under new director Pamela Bilik, Bilik resigned during the Oct. 3 rehearsal.
According to stage manager junior Jackie Spang, "logistic issues and artistic differences" contributed to Bilik's resignation.
Courlander is happy to step into the director role.
"I'm looking forward to getting my hands dirty and getting to know the kids," Courlander said.
Meanwhile, CHS has also hired Choral Music teacher Matthew Albright as the stage director for this year's fall production, Auntie Mame.
Albright will focus on providing a creative space for the performing arts, emphasizing the social and interactive aspects of the arts.
Albright is also the director for Blast 25 and still in the process of putting together his creative team.  He is optimistic about this year's production of Blast 25.
Despite all of the drama surrounding the performing arts at CHS, Benz remains optimistic regarding its future.
"We always have great productions," Benz said. "The community is very supportive and enthusiastic about each of our Churchill musicals or drama productions."