Olympic rower speaks to CHS crew team
A group of CHS students are gathered underneath a pavilion beside the Anacostia River, eyes wide and smiles broad as they hang onto every word spoken by the young man in front of them.
David Banks, a 29-year-old CHS alumnus and rower for the U.S. in the 2012 London Olympics, visited the Churchill Crew Club for the second time on Sept. 12.
"David heard that Churchill had a new crew team and decided to come down during the winter during an indoor practice and met the team," Coach Brad Smith said. As a result, Smith added, "He received emails and messages from Churchill crew team members while in London. He decided to come back this past month to watch a practice and to tell his view of the Olympics and to answer questions."
The team was thrilled by Banks' return. Banks explained his work ethic and expressed how humbled he was by his experiences as a rower. He spoke for a half an hour before the team set out on the water, where Banks rode in the launch beside Smith and critiqued varsity rowers through a megaphone.
"My favorite part of him coming to practice was knowing that an Olympian was watching me row and it made me row harder," junior Abby McClive said.
According to Banks, his experiences as a student at CHS shaped him into a more dedicated and hardworking person, thus paving the way for his future success.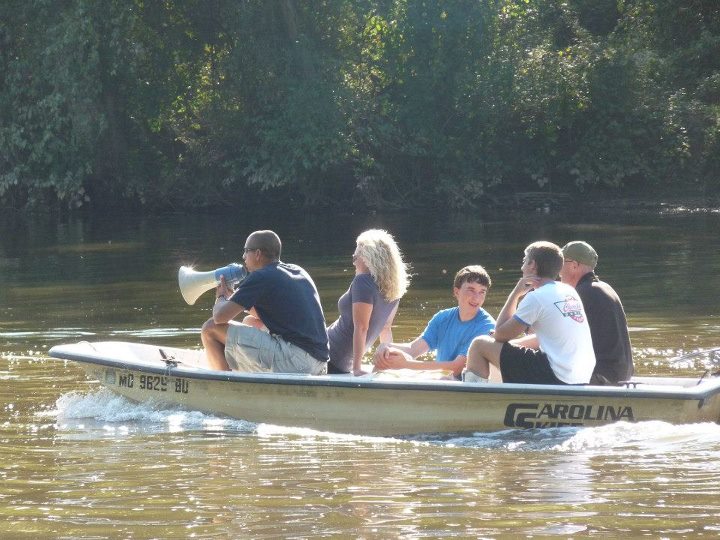 "I remember being very busy in high school and I remember that Churchill had high expectations for its students and student athletes," Banks said. "It taught me you had to work and you had to persevere, and that if you did those things then eventually you could overcome your challenges. That helped me so much, not just in the Olympics, but in the years spent training and getting there."
Banks did not row crew in high school because there was no CHS crew team at the time, but he did play basketball and run track and cross-country. He began rowing as an undergraduate at Stanford University after being encouraged to attend a walk-on rowing meeting by a boy in his dorm.
"I saw the presentation and fell in love with the power of the sport," Banks said. "Then I went for a week, then a month, then a semester, then the year. I liked it because I could easily see the reward for the work I put in. I saw myself getting better and I loved the pure competitiveness of the sport. So I was hooked."
According to McClive, the fact that Banks started rowing in college rather than in high school makes him even more impressive.
"Seeing someone who started rowing in college and made it to the Olympics is really inspirational because it shows that if you work hard at something, all that hard work can pay off," McClive said.
According to an article on the Stanford website, Banks worked hard to ensure that students who lacked the resources were able to row. He started a learn-to-row program in Trenton, New Jersey, that sponsored athletes in the Mercer Junior Rowing Club. He also helped found Rowing-is-Growing, an after-school program that hosted learn-to-row camps. All the while, he trained and attended rowing camps until he was finally scouted for the U.S. Olympic Team.
Banks rowed in the bow seat in the U.S. Men's Eight on August 1 at the London Olympics. The boat came in fourth place, 0.3 seconds behind the third-place finisher.
"It was a great moment, but at the same time very tough because we had gotten so close to winning a medal," Banks said. "At the end of the day it was honor to be able to represent everyone and I think we did so to the best we could on that day."
CHS's varsity girls' crew captain Julia Taladay was inspired by  Banks' example.
"The most important thing I learned from David was about the dynamics of a team and how the work is just as important as winning races," Taladay said. "It's about relying on your teammates to pull their hardest and you pull your hardest for your teammates."
Banks plans to return to Churchill Crew in the near future. He said he admires the team just as much as it admires him.
"I really love the enthusiasm and spirit that the team has," Banks said. "I am really impressed with the whole operation and the dedication. I think the future is very bright. You can already see a competitive nature developing and you can see the team members taking responsibility for their team and teammates."
Banks said he believes that Churchill Crew will benefit its members academically and socially. He believes this because, he said, rowing is "a sport of dedication, discipline and strength both mentally and physically." He added that "usually the rowing team has the best grades in school and rowers genuinely do very well both in college and once they graduate."
Banks is a strong believer in challenging oneself in order to become a stronger person.
"My best advice would be to not be afraid of failure," Banks said. "Seek out situations and experiences in which you are not guaranteed to succeed. It can be hard to see at the time, but these experiences make you so much better and tougher and skilled than you could ever imagine. If there was one regret I had, then it would be that I was not as aggressive in doing this myself. By learning early to do this you will make yourself infinitely better over time, not just in sports or athletics but in life."