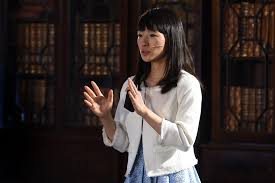 By Kathy Hu, Advertising/Subscriptions Manager

March 11, 2019
Marie Kondo is seen by many as the 'Queen of Organization,' after the popularity of her book "The Life-Changing Magic of Tidying Up" blew up and she was awarded her own Netflix series "Tidying Up with Marie Kondo." The series shows how she declutters and organizes peoples' homes. She ha...
By Joe Nolan, Jon Sosner

September 2, 2010
The Young Life club will be coming to CHS this fall. In the past the Christian organization  left CHS and then came back because of inconsistent volunteering. But with two new volunteers, it has returned to CHS once again. According to its website, Young Life is a nonprofit organization active...
Friday, January 24

Boys Basketball

Winston Churchill High School 55 - Whitman 56

Friday, January 24

Girls Basketball

Winston Churchill High School 53 - Whitman 33

Wednesday, January 15

Boys Basketball

Winston Churchill High School 62 - Whitman 58

Wednesday, January 15

Girls Basketball

Winston Churchill High School 72 - Whitman 29

Friday, January 10

Boys Basketball

Winston Churchill High School 64 - Wootton 50

Tuesday, January 7

Girls Basketball

Winston Churchill High School 65 - WJ 30

Friday, January 3

Boys Basketball

Winston Churchill High School 72 - Einstein 35

Wednesday, December 18

Girls Basketball

Winston Churchill High School 67 - Kennedy 14

Friday, December 13

Boys Basketball

Winston Churchill High School 61 - Springbrook 71

Friday, December 13

Girls Basketball

Winston Churchill High School 74 - Springbrook 12

Tuesday, December 10

Girls Basketball

Winston Churchill High School 59 - Urbana 26

Tuesday, December 10

Boys Basketball

Winston Churchill High School 69 - Urbana 60
The Churchill Observer- May 2018