Wizards fans plead: Durant, please come home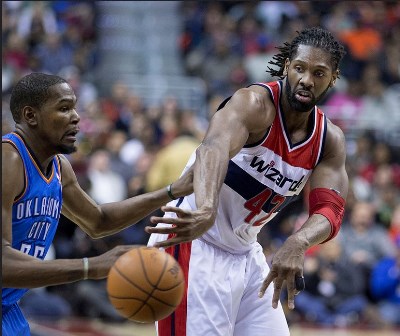 "I'm Coming Home."
These three simple words and a photo of LeBron James in his old Cleveland Cavaliers jersey appeared on his instagram photo July 11.  After four years and two championships with the Miami Heat, the superstar announced his return home to the Cavaliers.  Other players should follow the same path.
Kevin Durant, please come back. Washington D.C. begs you.  As Durant's current contract comes to a close, he too should return home and play for our Washington Wizards.
Although Durant never left the Wizards in the first place, his basketball hiatus from the area would qualify his return as a homecoming all the same.
Durant grew up near Washington, D.C. in Prince George's County, where he played basketball in the Amateur Athletic Union (AAU), and for Montrose Christian High School. He went on to play at the University of Texas and was eventually drafted second overall in the 2007 NBA Draft by the Seattle Supersonics.
After the 2014-2015 NBA season, Durant will become a 27-year-old free agent at the prime of his career.  Spending the last seven seasons with the Oklahoma City Thunder (OKC), Durant now has the opportunity to end his time with OKC and come home to help the Wizards in their quest for a championship.
According to a Washington Post July 2014 interview with NBA expert Michael Wilbon, the Wizards "have done all the right things'" and are putting together "all their resources," to "clear out a big pile of money," for their pursuit of Kevin Durant in 2016.
The Wizards have made it clear they are interested in the former MVP. Yes, Durant will have emotional ties to the D.C. area, but that is not the only reason the Wizards are a right choice for him. It may seem crazy, but the Wizards actually give Durant a better chance to capture a championship.
According to a USAToday.com 2014 September article, in regards to the best NBA backcourts, Wizards teammates John Wall and Bradley Beal will be at "the top of the list."
Washington already has one of the best backcourt tandems in the whole league that will only get better with experience. Wall and Beal give Durant a better opportunity to win, not only in the present, but also moving forward. They are both developing superstars that will compliment Durant's play better than Russell Westbrook, his current superstar teammate in Oklahoma City.
According to a March 2014 NBA.com article, it is doubtful that Durant can be successful with Westbrook because there have been no great teams "where the dominant talent was challenged by another star," much like Westbrook and Durant.
The success of the Thunder in the playoffs, or rather lack thereof, speak volumes to this point.  First off, to highlight Westbrook's injury problems, he didn't play enough games last year to register any official statistics. However, when he wasn't hurt, he competed with Durant for shot attempts and took chances away from the true star of the team.   Durant will have no chance of winning a championship with a point guard who cannot share the ball and is constantly injured.
On the other hand, Wall's stats don't lie.  He averaged 8.8 assists per game last year, ranking second in the whole league, and he added 19.3 point per game to go with it. With the youth of Wall and Beal along with the veteran play of center Marcin Gortat and forward Nene, it is easy to see why Washington will be a very favorable destination for Durant in 2016.
In regards to Durant, "If the Wizards come to get him, he's ready," said NBA expert Michael Wilbon.  In 2016, the Wizards look like they are coming.