Good Communication is Necessary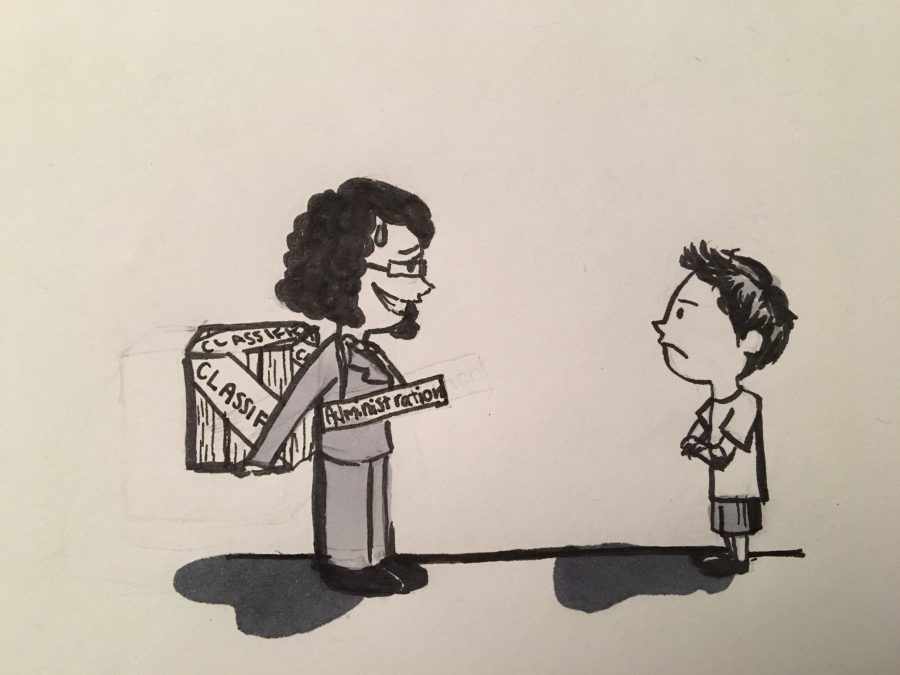 We think of CHS as place where all are welcome and as a place where students have the support they need. But time and time again, this ideal has unfortunately been proven incorrect.
Over the past year, CHS has been through an extraordinary number of emotional stressors. As a community, we look towards our friends, family and administration for support in challenging times.
However, when we turn towards our administration for support, it can often feel like information is being kept secret and guidance.
According to a Nov. 30 Washington Post article, two boys taped a "Whites Only" sign on a bathroom door Nov. 10, here at CHS. For some, news of this act was a shock. But for others, this event was old news.
This event was racist, horrible and above all, unacceptable. It is horrific that such an act happened at our school, but what is even more astounding is that fact that so few people were informed about the event directly after it occurred. While the Washington Post reported on the incident two weeks after it occurred, our own administration failed to address it with students and parents in a timely manner.
According to Dr. Joan Benz, a notification wasn't immediately sent out to parents or students because such a notice would have identified the two students who put up the sign. In addition, the incident did not directly impact students emotionally or physically, so there was no need for communication with parents and students.
Yes, this occurrence involved only two students. But the number of students involved in a racist, discriminatory act does not correlate with the number of students that the action could affect. We are a community made up of many different groups. When one group is targeted, we are all targeted.
What if there had not been a Washington Post article about the racist incidents that have occurred in MCPS since the election? Would we have even been aware of a racist occurrence within our own school?
It should not take a major media outlet to inform both students and staff about something that has happened within their very own school, especially so long after the event occurred.
A letter notifying parents was sent out Dec. 15, more than a month after the incident occurred.
According to the letter, Sources of Strength (SOS) activities were planned for before winter break, and staff and students will undergo "Cultural Proficiency Training" after break.
SOS activities are not a replacement for the support and awareness administration should have provided around the time of the incident. Training for staff and students is a good effort, but it is too little, too late. These actions should have been taken right after the incident occurred, not because there was a backlash against the way administration dealt with it.
CHS is not the only school that has experienced a racist incident post-election. At Quince Orchard, where a similar discriminatory incident occurred Nov. 29, the administration was more timely in addressing their incident. They sent home a letter to students and parents, and supported their community at a tense, crucial time.
CHS administration must follow similar steps as QO. Communication after events like these is imperative in order to maintain trust.
Even if students did not view the vandalism themselves, word travels quickly at CHS. Misinformation about this incident began to spread. Rumors thrived about how the incident occurred, who found out about it, what punishment was given to those involved. All of that could have been avoided if CHS leadership had been proactive in addressing the situation.
By not alerting parents, staff and students, administration has failed to express that they care about well-being of the majority student body, instead demonstrating that they are vested in protecting the identity of the few.
Administration doesn't need to, nor are they supposed to, tell us everything. However, when an discriminatory incident such as this occurs, it is administration's duty to inform and reassure the community in a timely manner as well as condemn the event itself. Students were not only hurt by the act, but by the fact that their own administration felt that it was unnecessary to alert them properly.
This racist incident is only one reported example of racial injustice in CHS, but it reveals the pattern of secrecy and indifference that our own administration shows us. Students must be informed and supported when things like this happen. The CHS community cannot go on being excluded from crucial information.
However, things can, and should change. It is time for transparency, trust and truth, all of which can be accomplished by simply informing the CHS community when incidents occur that truly impact them. A better flow of information will strengthen the bond between our administration and our students, a bond that is crucial for CHS' future success.
In our society, it is imperative to be informed on all types of issues, whether it be politics, pop culture or any event that impacts us. Some responsibility of being informed may fall on students themselves, but when issues such as these arise, administration must make students and staff aware of what's going on in CHS.