New advisory period keeps students informed about issues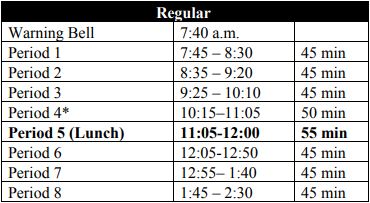 WCHS is implementing a new monthly advisory period that started Feb. 14 for students to voice their thoughts and opinions and for teachers to share news with the student body. The idea came from Principal Brandice Heckert who is bringing the advisory period idea from the other MCPS schools she has worked at.
The point of the advisory period is to set aside a block of time where the schedules have already been adjusted to have 43-minute class periods and a 20-minute advisory period. With an advisory period, administration is hoping to be able to communicate with students in an organized manner about issues that are grade-level specific, school-wide or community-wide.
"We have one day a month where if things come to us, we have time to disseminate the information or take a survey," principal Brandice Heckert said. "That way, it's not impacting instruction so much like it is now. We also know that announcements aren't the best way to share things since not everyone is able to listen to them."
While the advisory period is new for WCHS, many other MCPS high schools have an advisory period already planned into their schedules, which range from being once a week to once every two weeks.
"We have a large number of things that come to us either from the system or that we have to do internally that are sorted alphabetically by grade level or that need to be done by grade level," Heckert said. "Usually what ends up happening is that English and social studies get crushed with stuff—whether it's surveys, passing stuff out or PSAT results. My goal with this semester was to try one a month to see if it made sense to look at whether we should expand this."
The 20-minute period in between second and third period is new for all students, though the younger classes will have more of a chance to adjust if the period continues for months and years to come.
"It is going to take a while to catch on," AP U.S. History and Psychology teacher Amanda Marshall said. "Take the seniors who have never done it—they do not have as vested of an interest in it. For the freshmen and sophomores, and even the juniors, if it becomes a part of their routine, they will see the value of it."
For some students, the mini-period allocated for advisory could pose a potential disruption to their schedules, especially for students who take double period classes.
"The concept is a good idea because being informed is one step closer to solving the issues at hand," senior Emma Gray said. "However, I also think there are better ways to go about designating a time for advisory specifically. Personally, I do not like how they placed the advisory between second and third, because I have a double period during that time slot, which disrupts my class entirely and causes us to lose focus, so it could definitely be designed better."
The new addition of the advisory will be looked at thoroughly and feedback from students will be taken into account on whether this period is an effective way of communicating.
"Instead of an advisory period within homeroom, administration could designate a few minutes from each class into first period, so that teachers could speak directly to their classes," Gray said. "This way there is no need for a five minute travel time to your homeroom class and the schedule would not be as disrupted."
In the future, depending on how this current "trial" period works out, the purpose of the advisory period itself could be altered.
"There has to be feedback and then a solution to it," Heckert said. "For example, 'this did not work, what is another way we can try?' I am open to any discussion. Maybe part of the discussion is that we take one minute out of every class and put eight minutes back into lunch. When you think about it in the grand scheme of things, being once a month is not that big of a deal."
When it comes to communication and open dialogue, the atmosphere of classes must also be taken into account.
"Many students are not very comfortable with their homeroom teachers, as we currently only see them a couple of times a year," Gray said. "By speaking with teachers that students actually learn under, a bond could be made between the students and teachers, which can open up discussion within the classroom and make it a more welcoming environment for students to voice their opinions."
While the Feb. 14 advisory period was used to discuss prominent issues within the WCHS community, that was not the original plan. Future advisory periods will discuss grade-specific content unless there needs to be a discussion about specific events.
"It worked out that we already had the student body already captive," Heckert said. "It was not necessarily what I wanted to do because of the emotion behind the situation, but at least this was an opportunity that did not take away from classes. I met with students on Wednesday and we talked seventh period, recorded eighth and it went out on Thursday, so I did not really have time to engage the staff in conversation. That conversation would be better had in a class students already had instead of a homeroom."
With just a few months left in the 2018-2019 school year, there are three advisory periods on the calendar that will be considered when planning for the 2019-2020 school year begins.
"We are going to see if it works and if it's something that we want to continue to do," Heckert said.