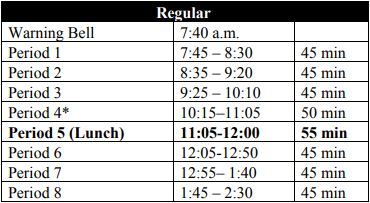 By Jenna Greenzaid, Editor-in-Chief

March 6, 2019
WCHS is implementing a new monthly advisory period that started Feb. 14 for students to voice their thoughts and opinions and for teachers to share news with the student body. The idea came from Principal Brandice Heckert who is bringing the advisory period idea from the other MCPS schools she has worked...
By Justine Stayman, Circulation Manager

September 28, 2011
At the very beginning of the school year, the video promoting the new "Be the Change" campaign raised questions among students about what exactly the campaign aimed to accomplish. The video showed students repeating the campaign's catchphrase, "Be the Change" and suggested that students...
Winston Churchill High School

63

Mar 4 / Girls Basketball

Winston Churchill High School

72

Mar 2 / Girls Basketball

Winston Churchill High School

60

Feb 21 / Girls Basketball

Winston Churchill High School

65

Feb 21 / Boys Basketball

Winston Churchill High School

73

Feb 7 / Boys Basketball

Winston Churchill High School

55

Jan 24 / Boys Basketball

Winston Churchill High School

53

Jan 24 / Girls Basketball

Winston Churchill High School

62

Jan 15 / Boys Basketball

Winston Churchill High School

72

Jan 15 / Girls Basketball

Winston Churchill High School

64

Jan 10 / Boys Basketball
The Churchill Observer- May 2018