JT comes back to the stage with the 20/20 Experience World Tour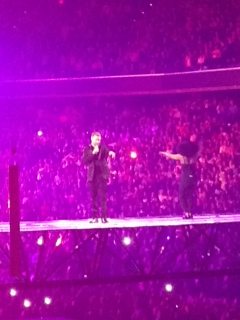 Justin Timberlake's 20/20 Experience World Tour definitely gives fans a lot to look at. From colorful strobe lights to classic dance moves, Timberlake occupies the stage.                               
The Feb 24 concert at the Verizon Center kicked off with the hit Pusher Love Girl. Timberlake enhanced the crowd's excitement by inspiring the entire audience to dance: his shadow was projected on a large screen behind him so everyone could see his great moves. The band was also present on stage, adding sight and sound to the performance.
 However, Timberlake's real moves were revealed during the fourth song, Don't Hold the Wall, as he and his dance team, all sharply dressed in suits and bow ties, danced in perfect sync. First Timberlake narrated the scene with his lyrics, then as the beat dropped, he threw in his classic spins and slides to complete the song's performance.
The concert also held a surprise to the audience members who were astonished and thrilled to find out they would all get to see JT a little closer. As he sang Let the Groove Get In, Timberlake and his dancers mounted onto a lift that took them to the back of the stadium. He then performed seven more songs on that side of the arena, so fans in the back could catch an even better glimpse of his moves.
The crowd got quiet when the singer began the acoustic version of What Goes Around… Comes Around, but it was only a few moments until the entire mass was singing along in harmony.
JT finished the show with his Top 40 hit Mirrors. This song, of course, got a huge rise out of fans, being the latest single of the performer.
Timberlake does a great job connecting with fans. He is a top-notch entertainer who not only sings and dances, but plays the piano and guitar during his performances as well. 
After seven years off the tour bus, it's good to have you back, Justin. You've been missed.