I'm healthy and I know it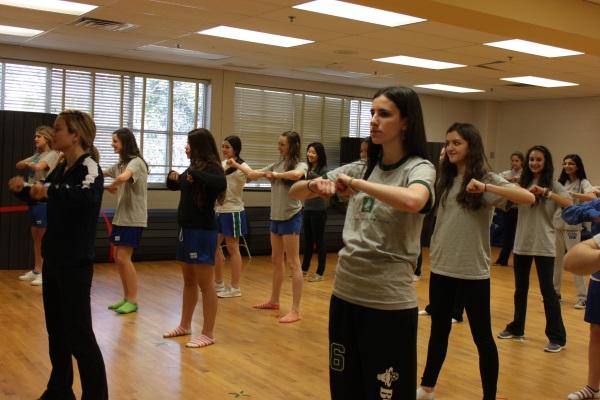 Four reps of 25 sit-ups, three reps of dumbbells, leg presses and four miles on the treadmill. This workout might sound monotonous or terrorizing, but however you choose to work out (or not), results are best seen when the exercise routine is varied. With spring break, prom and summer right around the corner, the Observer offers some fun ways to get in shape by trying a new class, using a home fitness video or just dancing around.
Pole dancing is a gr­eat way to strengthen your upper body, core and legs.
Chic Physique Fitness, located in Bethesda and Frederick, offers Pole Dance Fitness classes either privately, with a group or for private parties. They incorporate strength training and acrobatics, dance and aerobic activity performed through a series of exercises on a vertical pole.
According to Chic Physique's official website, pole dance fitness classes burn an estimated 300-500 calories and increases participants' strength and flexibility.
"I only took one Pole dancing class, and it was tough," '07 alumna Abha Gunjal said. "It is a really great way to build muscle throughout your whole body."
If pole dancing is too risqué, kickboxing may be a better workout. Kickboxing comes in a variety of types, varying from classes with actual punching bags to classes with no punching bags where the teacher acts as the object of punching.
Kickboxing is offered at L.A. Fitness, Lifetime Fitness, LA Boxing, and Fitness First as well as other places around the area.
According to L.A. Fitness's website, kickboxing releases frustration. Participants can kick, punch, bob and weave their way to a higher fitness level and leave the class feeling rejuvenated.
"Kickboxing is really good exercise and gets your whole body moving," said sophomore Shira Rodman. "I like to kickbox with friends because it's a group class so it is more fun to do it with people you know."
Zumba is also a new workout that is gaining popularity. According to its official website, Zumba routines involve fast and slow rhythms. When successfully combined, the routines increase energy while burning fat and toning the body. Additionally, there are seven different types of Zumba classes, each aimed toward a different age and skill group. There are routines specialized for young children, older adults and for mixed age groups.
"During Zumba, you have fun while doing exercise," said sophomore Paula Rabade, who practices Zumba weekly. "You work out every part of the body, from abs to legs and arms. You're also listening to music, so the exercise doesn't hurt as much."
Zumba's popularity has also reached physical education classes at CHS.
"I decided to incorporate Zumba because I knew it was becoming the next popular workout," physical education teacher Christen Gjeldum said. "My class became very interested in it last semester. I also love to dance, so I thought it would be fun."
Fun workouts also can be done right at home. Beach Body, an in-home fitness and weight loss solutions company, has become a well-known for its home fitness videos, two of which are P90X and Insanity.
According to its website, P90X can transform a person's body in just 90 days. Senior Jalal Baten first heard of P90X from AP Environmental Sciences teacher Gary Rogers and started the program because he had some free time.
"Mr. Rogers is a good motivator," Baten said. "He told me how he did it in the past and got me curious. It's my senior year, and I have a lot of spare time on my hands. It is the best time to do it."
Baten recommends the program which includes many different exercises. Some include different variations of push-ups and chin-ups, yoga positions and plyometric exercises such as jump squats and rock star hops.
"It is a simple way to get fit," Baten said. "One just has to have the discipline to stick to it, but anyone can do it."
Insanity is another Beach Body program. According to the Beach Body website, the workouts consist of plyometric drills combined with intervals of strength, power, resistance and core training moves. Specific examples are "suicide drills" and "power squats." The website promises results after 60 days, and no extra gym equipment is needed.
Senior Ian Plotnick decided to take on Insanity after he heard about it from a friend.
"I started doing Insanity for beach week," Plotnick said. "I got to get that beach body."
Plotnick would recommend Insanity to anyone who wants a beach body but says that the program requires a lot of work and dedication, and it's necessary to switch up the workouts.
"After doing the same three or four workouts for a month, near the end of each month you start to get used to it," Plotnick said.