Coldplay release new album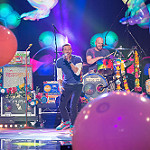 The National Football League (NFL) recently announced that Coldplay will be playing in the 50th Super Bowl halftime show on Feb. 2016, with the help of other unannounced artists.
"I think they will have a better performance than most," junior Srikar Kolla said.
Coldplay also released their seventh album, A Head Full of Dreams, on Dec. 4, featuring many well known artists and even President Barack Obama.
Tove Lo sings a duet with Coldplay's frontman, Chris Martin, in the song "Fun"; Beyoncé sings in the song "Hymn for the Weekend," and President Obama quietly sings "Amazing Grace" at the end of the song "Kaleidoscope". Guitarist Noel Gallagher from the 1990's rock band Oasis has a guitar solo in the song "Up&Up".
A Head Full of Dreams provides a new sound rather than the traditional piano-based songs of Coldplay's early 2000 albums, yet continues to create a cheery pop rock melody.
Coldplay's previous album, Ghost Stories, was slow and personal, reflecting on the break up between Martin and Gwyneth Paltrow. A Head Full of Dreams is quite the opposite and expresses the optimistic, layered pop music that mainly focuses on the more positive aspects of a relationship.
"Compared to Mylo Xyloto or Ghost Stories I like this one [A Head Full of Dreams] probably best," Kolla said.
This is reportedly the last album that Coldplay will release.