Teachers list their favorite songs from their playlists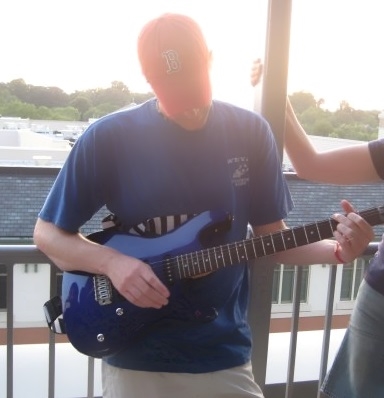 Kevin Brown
English and AP Lang teacher Kevin Brown likes rock songs with masculine singers, that give meaning to their words. Here are his favorite songs:
1) "Black" by Pearl Jam
2)"Where Did You Sleep Last Night" by Nirvana
3)These next two were a tie for Brown, both performed by the same band
a."The Woods" by White Buffalo
b."Love Song #1" by White Buffalo
"My main criteria was if I am doing something and the song comes on I go into a coma-like trance—stop everything and just listen," Brown said. "Sometimes I replay the song or a part of it before I can possibly move on to something else."
Jamie "KG"
AP Comparative Government and AP World History teacher Jamie Kimbrough-Groves likes soul and dance music. Her top songs include:
1) "Flawless (Remix)" by Beyoncé and Nicki Minaj
2)"Let Me Come on Home" by Otis Redding
3) "Mathematics" by Mos Def
"I generally love a one-name diva figure like Aretha, Beyoncé, and Rihanna, conscious hip-hop, not necessarily what you hear on the radio," Kimbrough-Groves said. "If it involves dancing, I generally like it."
Robert Roos
Spanish teacher Robert Roos primarily listens to heavy metal but will listen to all genres. Here are his top three songs:
1) "Metal Gods" by Judas Priest
2) "Ain't Talkin' 'Bout Love" by Van Halen
3) "Fight the Power" by Public Enemy
"I always listen to heavy metal from the '70s and '80s especially when I'm tired and need a shot of adrenaline," Roos said.
Douglas Szafran
AB Calculus and AP Statistics teacher Douglas Szafran likes older music. His favorite songs are as follows:
1) "Someone Saved My Life Tonight" by Elton John
2) "The Load-Out/Stay" by Jackson Browne
3) "Desperadoes Under the Eaves" by Warren Zevon
"My music taste is much like me: old and mellow," Szafran said.
Erin Brown
U.S. History and Honors Modern World History teacher Erin Brown loves anything that will make her dance. Here are her top three songs:
1) "Love Story" by Taylor Swift
2)"One Day More" from Les Miserables
3)"The Way You Make Me Feel" by Michael Jackson
"I love to have dance parties with my daughters on almost a daily basis," Brown said.
Paul Jacobson
Global Issues and AP NSL teacher Paul Jacobson enjoys alternative rock music, especially songs with historical references. The bands below reference the British Naval force, the Chinese Revolution and the Jewish women who forcibly became prostitutes during the Nazi time period. Here are his top three songs:
1) "Who's in Control?" by British Sea Power
2)"Not Great Men" by Gang of Four
3)"Love Will Tear Us Apart" by Joy Division
"I have been collecting music since high school," Jacobson said. "I have at least 5,000 CDs and vinyl records."