Gym renovation ends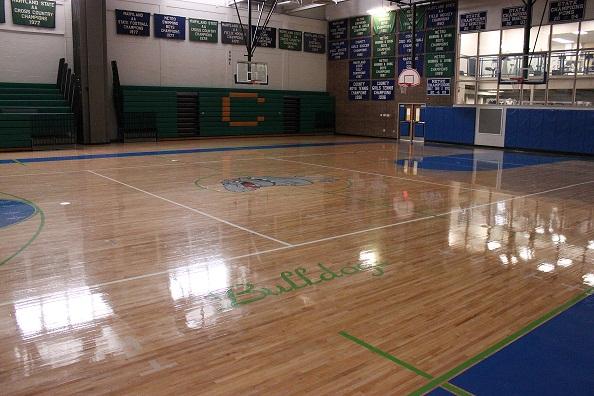 The main gym floor renovations were completed Nov. 12, after causing conflicts with sports teams, community activities and physical education classes.
"It is good to have the gym back because before we would have class outside," freshman Alexandra Derechin said.  "Now we get to be inside, and it's a lot warmer,"
The damage was a result of the summer derecho. Water damage throughout the main gym caused areas of the wooden floor to buckle.
"The time choice was very poor," athletic director Dave Kelley said. "We made numerous requests to have the floor fixed over the summer, but MCPS refused to do anything about it."
According to Kelley, after CHS requested multiple times to have the floors redone, MCPS stated that the floors were fine and refused to repair any damages.
"Parents did write Superintendent Dr. Starr and other executives in the school system, complaining about the quality of the floor," Kelley said.
Kelley and the CHS Booster Club made an appeal, pointing out that if the gym was going to be closed down, the whole floor should be replaced.
The gym closed mid-September, putting  restrictions on instruction, community recreational use, sport practices and games.
"At the beginning of the season, we would fight over the gym with football, field hockey and volleyball, especially when it rained," senior cheerleading captain Paige Brody said. "We could not practice for our upcoming competition."
Physical education classes were affected as well. Classes like basketball had to be held outside.
According to Kelley, physical education teacher Donald Higgins devised a rotation between classes, alternating between the dance studio, lower gym, wrestling room and the weight room.
Cheerleading uses the main gym regularly for practices, but had to accommodate for the shortage of area.
"Cheerleading has been very flexible," Kelley said. "They used the cafeteria or went outside, weather permitting. Between varsity and junior varsity teams, they had limited space to accommodate."
When the renovations were complete, activities were able to resume normal schedules.
"We're just glad to have our gym back," Kelley said.