The Turkey Bowl: A national tradition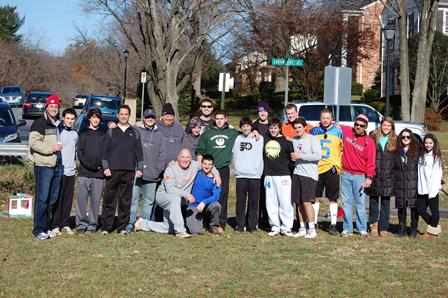 Thanksgiving: a time for family, food, friends and football.
Thanksgiving is about bringing people together; while some people may gather around a turkey, there are plenty of others—at Churchill and across America—who gather around the pigskin.
"Football on Thanksgiving is just one of those traditions," said Eli Promisel, Junior Class president and avid Thanksgiving football participant. "I don't know where it came from it's just always there."
In fact Thanksgiving football is nearly as old as the game itself. The first "turkey bowl" ever played came a mere two weeks after the invention of the sport. Then, fourteen years after the creation of the NFL, an annual Thanksgiving football tradition was truly established. This was the true spark for the tradition, and since then, plenty of CHS families have helped keep it alive.
"10 years ago, my cousin and his friends, who are CHS football alumni, decided to start going to Cabin John middle school to play football on thanksgiving," Promisel said.
According to Promisel the tradition quickly became a big part of the holiday, and "even the CHS alumni that have graduated college still play in the game."
Football has become such a large part of the Thanksgiving culture that for some people football isn't just a part of Thanksgiving, it is the whole holiday. For people like 2012 CHS grad Joe Haynes, there is no exception.
"It has been my favorite part of Thanksgiving every year since we started," Haynes said. "I look forward to it weeks in advance."
Haynes played in his neighbors' Turkey Bowl the first year after they had moved to MD. A year later, when the neighbors moved away, Haynes and his family took on the responsibility of hosting the game, and since then, regardless of how the neighborhood changes, the football has remained a constant.
"As the neighborhood changed, I started to invite friends from school, and their families," Haynes said. "We also sent invitations to celebrities like Mark Wahlberg and Peyton Manning hoping they would come."
The game continued to grow and bring more and more friends and families together in true Thanksgiving spirit. Friendship and comradery are what thanksgiving is all about, and nothing brings people together like fun, friendly competitions.
According to Haynes, "it is a chance to come together," and the amount of lasting memories it has made are "too many to count."
Perhaps Thanksgiving football started due to convenient timing, but the reason it has lasted is because it embodies everything Thanksgiving stands for: putting aside differences and coming together.