Tennis wins record fifth straight county title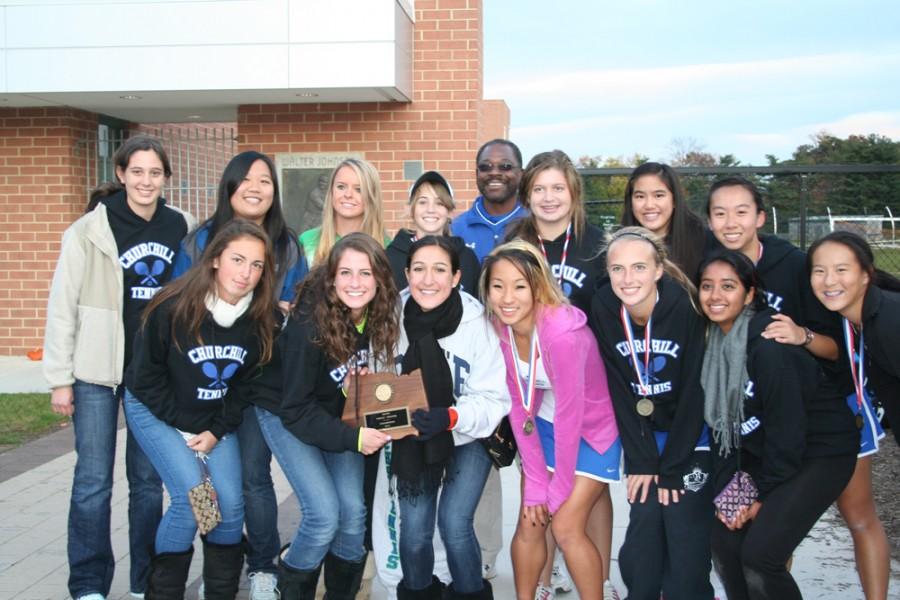 By By: Matt Raab, Sports Production Editor
November 23, 2011
After a grueling two-and-a-half hour battle on the court, doubles partners junior Olivia Lee and senior captain Tanya Bagheri sealed a record fifth consecutive victory at Counties for the girls tennis team Oct. 31.
The tournament ended in a three-way tie for first place between CHS, Whitman and Wootton, with 20 senior captain points apiece. Although it was a unique situation, it extended the tennis team's streak of first place county finishes to unprecedented heights.
"All the matches during the tournament were hard fought matches, and the girls gave their best," coach Benjamin Woods said.
Lee and Bagheri's doubles victory was the final match of the tournament for CHS, and the entire team was present to watch.
"It was the best feeling," Lee said. "Everyone was screaming, the whole team was cheering. That helped us win a lot."
The victory came as something of a surprise to the team, who expected fierce competition from the teams at the tournament, particularly Whitman.
"It was nice to know we were still on top after we lost to Whitman," Bagheri said.
The team's only loss of the regular season came against Whitman Oct. 4, when the previously undefeated team was blown out 6-1.
"All of those sets were close sets," Bagheri said.
According to Bagheri, it was not widely expected that CHS would beat Whitman players in the tournament.
Many of the opposing players the Bulldogs defeated were players who had beaten CHS during the regular season, including in Lee's doubles victory that assured a first place spot for CHS.
"Each match was three sets instead of two," Lee said. "It was so close."
Woods agreed with Lee's assessment of the tournament.
"We go into every match looking to do our best and put out a strong effort," he said. "Win or lose we try to give ourselves a chance by putting our best effort forward."
Although Lee said her two-and-a-half hour match time was "normal," the score alone (6-4, 4-6, 6-3) shows the strenuous play the Bulldogs endured. Team members felt a large amount of pressure to continue the four-year county win streak, and it was a factor in their games.
"I wanted to beat that team because we lost to them before," Lee said. "I felt pressure because I wanted to get points, I felt pressure because of the people watching."
Especially for seniors on the team, including Bagheri, the pressure paid off. This victory meant that her team won counties all four years she played for CHS.