By By Joel Denicoff, Sports Editor

February 21, 2012
The boys basketball team defeated Quince Orchard 49-46 Feb. 7, bouncing back from a two-point loss to Clarksburg. The win improved the Bulldogs to 15-4 on the season as the team only has three regular season games left until playoffs. In the game, the Bulldogs almost blew a double-digi...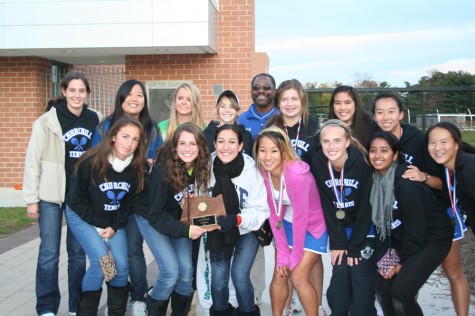 By By: Matt Raab, Sports Production Editor

November 23, 2011
After a grueling two-and-a-half hour battle on the court, doubles partners junior Olivia Lee and senior captain Tanya Bagheri sealed a record fifth consecutive victory at Counties for the girls tennis team Oct. 31. The tournament ended in a three-way tie for first place between CHS, Whitman...
Winston Churchill High School

63

Mar 4 / Girls Basketball

Winston Churchill High School

72

Mar 2 / Girls Basketball

Winston Churchill High School

60

Feb 21 / Girls Basketball

Winston Churchill High School

65

Feb 21 / Boys Basketball

Winston Churchill High School

73

Feb 7 / Boys Basketball

Winston Churchill High School

55

Jan 24 / Boys Basketball

Winston Churchill High School

53

Jan 24 / Girls Basketball

Winston Churchill High School

62

Jan 15 / Boys Basketball

Winston Churchill High School

72

Jan 15 / Girls Basketball

Winston Churchill High School

64

Jan 10 / Boys Basketball
The Churchill Observer- May 2018