The Churchill Observer's guide to homecoming week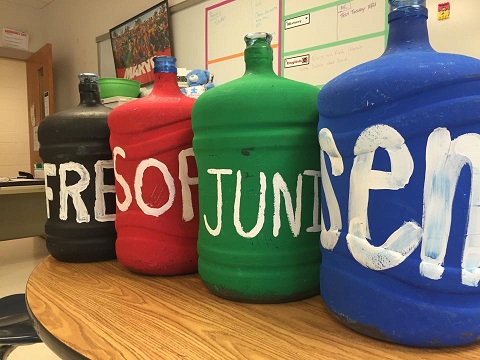 As homecoming week quickly approaches, the Observer presents all you need to know about homecoming week.
Week of Oct. 20: Money Wars
Previously called coin wars, this year class officers will be accepting coins as well as bills as large as $20 in the competition to raise the most amount of money for the Leukemia and Lymphoma Society. Look for your class officers in the hallways: they will be carrying large jugs to collect donations in.
Monday, Oct. 27: Pajama Day and Monday Night Madness
Jump straight out of bed and rock your PJs on the first day of spirit week. At 6 p.m. in the auditorium, the SGA will be holding the annual Monday Night Madness games. Come out and represent your class in a series of fun contests and games. Earn points for your class at this homecoming kick-off event.
Tuesday, Oct. 28: Tropical Day
Wear your favorite beach or Hawaiian clothing items. Represent your class with the most spirit!
Wednesday, Oct. 29: Jersey Day and Juniors vs. Seniors Powderpuff game
Its time for the girls to play football under the stadium lights. The annual powderpuff game, pitting the juniors against the seniors, will take place at 6 p.m. in the stadium. Come out and support your class!
Thursday, Oct. 30: School Spirit Day: Wear your class color, Fall Pep Rally
Class colors are as follows:
Freshmen (Class of 2018): Black
Sophomores (Class of 2017): White
Juniors (Class of 2016): Blue
Seniors (Class of 2015): Green
Friday, Oct. 31: No School, Halloween, Homecoming parade and football game
Come watch the class float competition at 5 p.m. before you cheer on your Bulldogs as we play the Whitman Vikings at home at 6:30. Each class will showcase their floats and perform their accompanying dances. Class themes this year are board games:
Freshmen (Class of 2018): Operation
Sophomores (Class of 2017): Life
Juniors (Class of 2016): Monopoly
Seniors (Class of 2015): Candyland
Don't forget to go trick-or-treating after the game!
Saturday, Nov. 1: Homecoming dance
Enjoy a night filled with dancing at the homecoming dance, 7:30 to 11:30, and come see the themed murals each class has created in the cafeteria.