Kits to Heart club touches hearts of cancer patients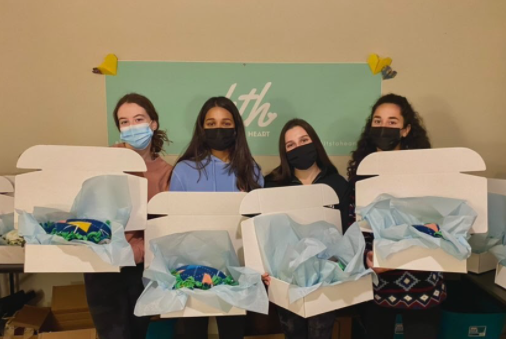 Pipe cleaners. Tissue paper. Construction paper. Markers. String. These materials are most commonly used for enjoyment, but they also have the power to make a difference in someone's life. Whether big or small, every act of kindness can make a meaningful impact on someone. Kits to Heart, a new club at WCHS is doing just that, one kit at a time. 
Sonia Su, a three-time cancer survivor, partnered with different high schools to expand her non-profit organization, Kits to Heart, and bring smiles to those affected by cancer. When she was in the hospital, Su was given a care kit and was inspired to do the same for others. Her goal is to spark the same feelings of happiness in people who are going through similar experiences. 
"My favorite part about this club is all of the kindness. Everyone is so nice and caring and I think that's very special and important," WCHS junior Mary Stock, an officer in the club, said. 
Nationally, Kits to Heart has donated over 2,800 care kits since the organization started in May 2020. They also provide volunteer opportunities and host events for people of all ages to package care kits, filled with thoughtful messages and hand-crafted items.
"During the pandemic, we volunteered with Kits to Heart and made friendship bracelets for cancer patients," WCHS junior Anjali George, the club's co-president, said. "We really enjoyed working with Kits to Heart. They do amazing work."
Influenced by their personal experiences with Kits to Heart, co-presidents Anjali George and Lauren Turner founded the WCHS branch this school year. Members of all grades meet monthly to create crafts for a good cause. The crafts are then sent to the Kits to Heart headquarters to be organized and given to cancer patients. 
"Kits to Heart brings joy and positivity to families impacted by cancer by making and distributing care kits," George said. "Our club directly works with the organization to donate all crafts WCHS students make to support their mission."
Each care kit is filled with different arts and crafts projects, including handmade cards, colorful friendship bracelets, tissue paper flowers and much more. When members create crafts, they are eligible for SSL hours. During meetings, club members are also given a chance to express their individuality and even suggest unique craft ideas.
"Our favorite project was making handmade cards. Everyone put so much thought and effort into the projects. We had cards with beautiful calligraphy, jokes, and amazing drawings. It was wonderful to see how artistic and creative our classmates are," George said. 
Although it has only been a few months since the club started at WCHS, their accomplishments from this past year are immense.
"We started our club this year and have already had so many great meetings," Turner said. "We have hosted raffles, made over 100 cards, and volunteered in person to assemble care kits. We are also planning a bake sale soon."
Kits to Heart has spread positivity to both cancer patients and club members. The club fosters a tight-knit community as members bond over their love of creating and helping those in need.
"Our club has brought lots of students together from all grades, and we've made so many new friends," Turner said. "It also is a very rewarding experience to know that we are making an impact on so many people."