GSA provides safe space for LGBTQ+ studentss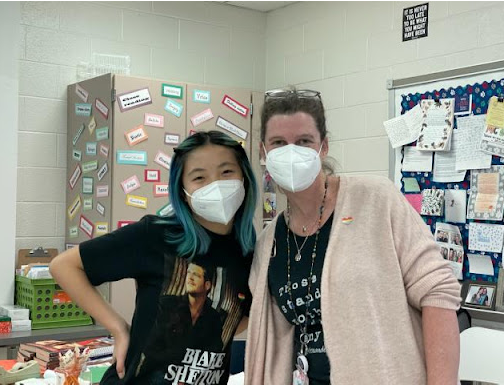 Walking down the hallway, one's eye might catch a brightly-colored poster on the wall. Students stop in front of it and read "GSA club at Churchill! Looking for new members! Anyone is welcome." They take a picture of it and think to themselves that they might want to go to the next meeting. Who knows, this might be the start of something they enjoy!
"GSA is a safe space for people to learn and be themselves," sophomore Noah Markovic said. "It's given me an outlet to be myself and meet other queer people."
Markovic, an openly queer student, is a student officer of the Gender Sexuality Alliance, or GSA, club. For him, the GSA is a place he can be himself. 
"The GSA is a place where people can be themselves," Markovic said. "So I want everyone to know that anyone is welcome to come."
The GSA Club meets on the first and third Friday of the month in room 229. WCHS is one of many schools with this club that are a part of the MOCO Pride Organization. MOCO Pride is a district-wide, student-led organization that discusses LGBTQ+ issues, policy changes and works to create a more accepting and equitable county. They do this through events such as workshops, movie nights, LGBTQ+ study courses and monthly meetings. All of this information is available at the handle @mocopride on Instagram. At Churchill, the advisor for the GSA Club is Aishling McGinty.
"I was faculty advisor at the GSA at Walter Johnson for years and thought I could support the students at Churchill with running the GSA," McGinty said. "I want to ensure the school community that I'm part of, is an inclusive and supportive environment for LGBTQ+ kids."
For McGinty, it is incredible to watch the way things have shifted over time. From pansexual to non-binary and aromantic, the world is becoming a more inclusive place. A lot has changed in a short period of time, but there is a long way to go and she plans to be a part of it. 
"I'm proud to be a part of it," McGinty said. "I will spend all my energy and time to ensure students feel safe and seen."
McGinty has worked towards creating a safe environment for students through several initiatives at Churchill. And she is not the only teacher working for inclusivity and creating a positive space at Churchill.
"We in the English department were asked to create safe spaces for students," McGinty said. "We include our pronouns in introductions and are sensitive to student names and pronouns."
The English department is not the only department to work for inclusivity. Starting next school year, WCHS will offer an LGBTQ+ Studies class available for students to take for one semester. Efforts are also being spearheaded by the administration. 
"We have been very well supported by the administration in the building," McGinty said. "Mr. Paskvan as well attended an officers meeting and explored how to make the school more inclusive."
It is scary to know that just because of who someone is, they might face discrimination. For those who think they are alone, they are not. The GSA at Churchill is open to everyone, regardless of their preferences or identity. 
"It means the world to me," Markovic said. "To see that this school has a place for queer to be, to learn, and just to be themselves."