TOTM: Riley Bartlebaugh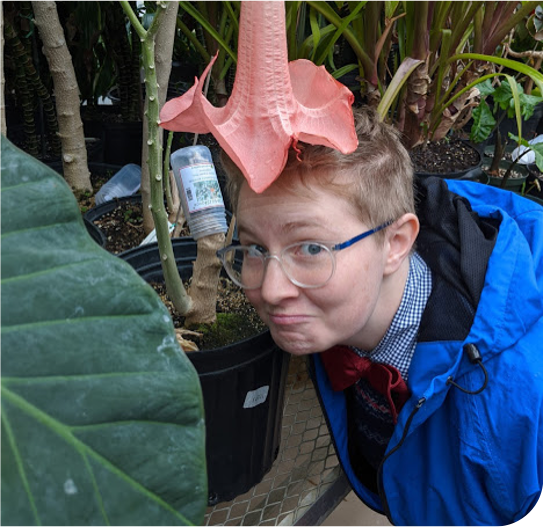 By Nur Yavuz, Social Media Manager
May 7, 2021
Despite beginning their first year at WCHS online, Riley Bartlebaugh has made their positive and lively presence widely known among AP language and composition students. Known as Mx. B to their students, Bartlebaugh continues to provide a warm, welcoming and respectful environment for class discussions and learning every day. 
COVID-19 and new quarantine habits have become obstacles for many who enjoy outdoor activities and exploring, Bartlebaugh included. Their favorite hobbies being, biking, attending bike tours and playing tabletop board games with friends and family, all have been put on pause because of the pandemic. Being at home for extended periods of time gave Bartlebaugh opportunities to find new pastime activities to participate in, including video games about developing inherited farm plots into a thriving virtual home. 
"My partner and I have gotten potentially too into Stardew Valley during quarantine; I'm very into my virtual farm," Bartlebaugh said. 
Starting off their career as a teacher was not what Bartlebaugh had envisioned. Transforming from a very creativity-oriented career and being able to apply those characteristics to a different profession was an important life decision to be made, and ultimately resulting in where Bartlebaugh is today– among the wonderful English teachers at WCHS.
"I started my life as an adult doing theater professionally and I kept running up against systemic inequities," Bartlebaugh said. "I was noticing that only people who had money or people that came from a privileged position really ended up having the ability to go on into theater professionally."
Instead of holding onto the anger of being in a position plagued with systemic inequalities, Bartlebaugh transformed frustration into solutions. 
"I'm good at talking, I love people and I love creating, and as a teacher I feel like I get to create beautiful things for other people, and help you all have 'aha' moments," Bartlebaugh said. "While it's not theater up on the big stage, I think sometimes these moments we have of human connection in the classroom are way more important than those moments up on the stage."
After deciding to go through a big career shift, Bartlebaugh went back to grad school to attain certification. In the classroom is exactly where they want to be, and they would have it no other way. 
"I view teaching English as teaching communication," Bartlebaugh said. "Something that I really want to focus on is not just giving you mastery of academic language but I also want to provide opportunities for all of my students to develop their social emotional languages."
Each class period begins with some sort of check in, whether that be mood or emotion updates through memes and GIFS.
"There's this idea that when you're at school you just don't leave your humanity at the door and become academic robots, acknowledging the interplay of your humanity and your intelligence and your emotional life," Bartlebaugh said. "I try to equip my students with the vocabulary so that you all can go on and not just write really nice emails and papers, but be able to talk about your feelings and reactions in a way that is productive and constructive."
Valuing the importance of class discussions and application of what is taught in class into the personal lives of students, is necessary to understanding the takeaways in each lesson. 
"Mx. B's class always makes me feel welcome and that my voice and participation is valued," junior Sophia Fettig said. "Their class is a safe space where students are encouraged to participate and feel comfortable."
At WCHS, there is often much stress on academic performance. Many students prioritize grades and standardized test scores over many other important factors in their lives, but it is key to note that mistakes are inevitable and crucial to success. 
"Someone I really respect told me nothing is irreparable, and when I heard that I was in this place where I had made mistakes that I didn't think I could fix, and I think that's especially important in the environment that we're in," Bartlebaugh said. "You can make mistakes, and part of learning who you are is trying things on and discovering your own boundaries. Maybe you make a decision that you come to realise you didn't want to make, it's OK, y'all are teenagers, nothing is irreparable, you just need to take responsibility and move on, tomorrow is another day."
The WCHS community is incredibly lucky to have kind and supportive teachers such as Bartlebaugh. The academic standards in our community are difficult to keep up with, and education about topics that do not contribute to numbers and letter grades are ways students can successfully evolve into adulthood with the help of teachers. 
"I look back on the English teachers that I had, and I always felt like when we where studying a text and we kept it on the page, it died. I didn't care," Bartlebaugh said. "As soon as you can start comparing and finding those touch points of your life and your experiences with the written word, that's when it comes to life."