WCHS families express mixed feelings over school reopening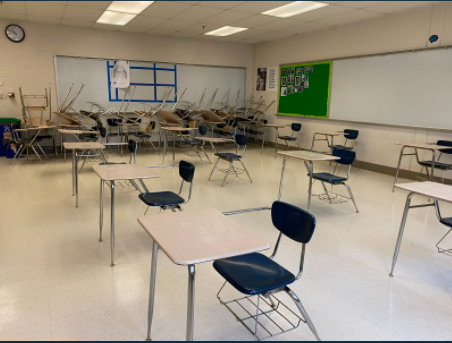 Virtual school is not something anyone could have expected. Joining classes everyday through Zoom, doing school at home and not being able to see friends and teachers would have sounded bizarre a year ago. But when the pandemic hit in March 2020, it was the only option to continue learning safely. Now almost a year later, MCPS has finally decided it is safe to return to in-person learning. While some are itching to go back to see friends and get back to normal, others would prefer to stay virtual and continue to do school work from home. 
On Feb. 9, 2021, the Board of Education decided students would have the option to go back to in-person learning. MCPS has implemented a plan that will send the students who chose to go back in phases. With it being almost a year since students have been in the building for school, many are on the fence whether they want to go back or stay virtual. Leah Ginsburg, a freshman at WCHS shares her thoughts on going back to school. 
"I have had a good experience with virtual school so far," Ginsburg said. "In a virtual setting I can do better academically because I don't have as much stress like if we were in the building." 
For some students and parents, the choice of going back in-person or staying online is a tough decision. Going back to school wearing a mask and being in a classroom, or staying online and attending class on Zoom instead. Some are comfortable staying online while others want to go back to in-person learning. Wendy Edison is an MCPS mom who is debating whether to send her kids back to school or not. 
"I think it's good for them to get back to school and return to their normal lives," Edison said. "It would be nice for them to go back and see their friends, however it might be hard to get used to wearing masks for long periods of time and social distancing."
According to the presentation "2.16.21 PTSA – WCHS Return to School" sent out by WCHS, the plan is for the return to school to be as safe as possible. With two-way hallways, social distancing markers and fewer desks per classroom, WCHS is making sure students are in the best position to learn while staying healthy. However, there's still the risk of catching COVID-19 even with all the precautions. 
"I wouldn't want to go back to school in person this year because at this point in time I would not feel comfortable putting myself or my family at risk of exposure to COVID-19," Ginsburg said. 
With about 50 percent of WCHS students returning to back to school in-person, there are some concerns among the students and parents deciding to stay virtual. Some want to wait until the fall, when more people will be vaccinated, and therefore safer to go back. In Montgomery County alone, there have been around 62,668 cases. Even with concern about the virus, there are benefits to going back. 
"I think it's a good time to start in person learning again because the COVID-19 cases are going down, and it would be safe for them to return," Edison said. "But I wish they could've had more time in person because by the time they go back it will be summer break soon."
MCPS has decided to implement phases known as 1.1, 1.2, 2.1, 2.2. These phases determine when each grade level will return to the building. With phase 1.1 returning on March 1 and phase 2.2 returning April 26, there isn't going to be all that much time spent in-person. Especially with the schedule, which has been modified to accommodate the current situation. 
"I don't think four days a week every other week is enough time to be in school," Edison said. "Especially since they will only have each class twice a week, it doesn't allow enough time for all the material to be taught."
While there are both positives and negatives to going back and staying online, it can be difficult making the decision. Whether students decide to return to an in-person environment, or continue to learn virtually, they should choose what will help them do their best during these unprecedented times. 
"I think when the time is right it would be beneficial to return to school, but at this point in time I don't really think it would be beneficial to go back," Ginsburg said.