TOTM: Catherine Trouteaud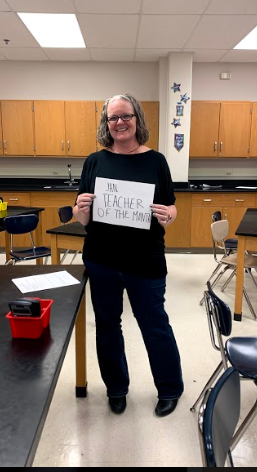 By Nur Yavuz, Assistant Observations Editor
January 30, 2020
Optimistic, kind, caring and so much more. Honors and AP Physics 1 and JV girls softball coach Catherine Trouteaud has brought light and smiles to the faces at WCHS through her love of teaching. Trouteaud has been teaching for a total of 16 years and two of them have been at WCHS.
The beginning of her journey to becoming a teacher took place in Florida, teaching on an emergency certification while waiting to get into grad school for a masters in environmental science. This blossomed her love for the environment of education.
"After working at a state laboratory doing water quality testing, I really missed the interactions with students that I was having," Trouteaud said. " I didn't feel like I was making a difference, so I went back to school for my masters in science education." 
Trouteaud's passion for teaching is evident through her interactions with her students. She is caring and will do anything that helps her students understand material in class.
 "I enjoy all of the extra help she provides and how she makes sure that everyone can understand what we are learning to the best of their abilities," junior Josh Shein said. 
Her excitement for not only teaching but coaching softball, helps create special moments and interesting conversations in class. 
 "Every class is a little bit different," Trouteaud said. "Students are hilarious, and I love the random things that happen."
She is active and involved with sports herself but also spends most of her time with her kids' activities. Aside from teaching, Trouteaud runs recreationally and is working back up to running another half marathon.
"High school is not the time to specialize, you'll have plenty of time later on," Trouteaud said. "So take the classes that are interesting to you and see where your passion leads." 
AP Physics 1 is known around WCHS as one of the more difficult AP's. Trouteaud makes sure that she makes the material as easy as possible for students. 
"She makes it more fun because she's so honest about everything and relatable," sophomore Ruyi Cosgrove. "I feel so comfortable in her class even though it's a challenging AP class."
Trouteaud loves being not only a teacher, but a student as well along with the aspect of learning and interacting with her students. 
"There are a lot of 'aha' moments when we do really tough problems together and figure out the solution was easier than we figured," Trouteaud said. 
Trouteaud always goes out of her way to make sure that her students are able to learn the material. Whether that is through giving extra problem work or solving a problem a few different ways so that students can pick whichever is easiest for them. Trouteaud is always willing to personally work with students to make sure their needs are met. Her kindness and eagerness to help others bring an extra piece of joy into the day. 
"I would want her to know that she has been very helpful this year and that everyone she teaches really appreciates her help," Shein said. 
Trouteaud's most important goal in her classroom is the relatiblity to the student's lives outside of WCHS. 
"I hope that the students that I teach ultimately see the connections between their lives and what we are doing in the classroom," Trouteaud said. "We need to understand science so that we aren't fooled by things we read in the news because whatever science you are taking there's connections to be made."