How to shop sustainably for the holidays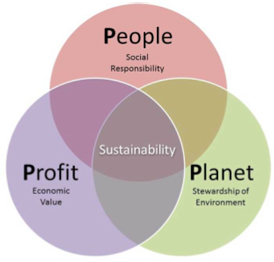 With the holiday gift season now in full swing and a pandemic accelerating, consumers are more likely than ever ready to shop online within the safety of their own homes. Meanwhile, the climate crisis' dire existential point makes this year incredibly important for consumers to patronize and shop sustainably because of the major contributions unsustainable consumption has to climate change. 
The world cannot afford to keep consuming at its current levels of resource use, emissions and waste. According to a 2019 report from C40, a network of global megacities addressing climate change, in the world's largest 94 cities alone the consumption footprint was 10 percent of the entire globe's greenhouse gases. Based solely on U.S. consumption, we need over four Earths' worth of resources to sustain life at that pace, showing the drastic need to reduce consumption footprint. 
Additionally, the current need to support small businesses, fair trade and to shop consciously instead of corporately is giant. While most Americans have seen a massive recession with millions unemployed, thousands of businesses closed or on the brink and poverty conditions like food insecurity way up, corporate wealth gain at companies like Amazon and Walmart, two of the largest online sellers, have seen unimaginable highs. As of this Thanksgiving, U.S. billionaires had seen a 34 percent increase in their wealth, totaling over $1 trillion in gains. Amazon's owner Jeff Bezos alone has seen his wealth rise over $90 billion since the start of the pandemic, while at the same time publicly denying paid sick leave and hazard pay to over 450,000 workers. 
The dichotomy between the corporate point-one-percent gains during recession, and the rest of America's losses have set off movements to shop small and shop consciously in the name of saving much-needed smaller businesses and supporting holistic and sustainable companies of all sizes. 
So between the climate crisis, in-person pandemic dangers, conscious shopping movements and a burgeoning green industry, this holiday season is the perfect time to shop smart and sustainably. But this is no charity effort; no longer are the days of searching long and hard for trustable sustainable companies and weeding through sparse and sub-par selection. Sustainable sources, companies and websites have all boomed and so has product selection and quality. There are not only many amazing sustainable substitutes, but better products to be found exclusively sustainably. 
Among all this selection, it can still be tricky to find the best sustainable companies and websites with the greatest quality of products and widest selections. This article will provide some of these for you to effectively shop green with your green and deliver your loved ones a present while supporting our suffering Earth, small businesses and fair trade communities. While you explore these, remember that there are still so many more great companies and sites to choose from!
One Stop General Marketplaces with Different Varieties   
Etsy– (Etsy Website): 
Etsy is a top site not only for this cause, but on the internet in general. The incredibly diverse and well-run market of high-level creators and products feature both needed mainstream items and individually ones designed. It is like the Amazon of small, unique and sustainable gifts and products in its endless selection and affordable nature. Although not every item is sustainable, the sustainable goods selection from many sellers is pervasive across the site's treasures and Etsy itself offsets its carbon emissions from shipping.  
Earth Hero– (Earth Hero Website):
Earth Hero has a strong range and selection of heavy and light goods, everything including tech, homegoods, pets, travel and personal care and wellness. All of their products are vetted for sustainability and the company possesses ambitious climate pledges and eco-friendly shipping. 
The Little Market- (The Little Market Website):
The Little Market has an impressive selection of artisan-made quality body care, accessories and comfort and home goods, among other types. They practice fair trade and empower global female artisans and social causes. The shop's homegrown and handmade nature promotes its sustainability. 
Lush– (Lush Website):
Lush is at the forefront of the cosmetics and self-care industry and is leading its charge on ethical and eco-friendly shopping. It proudly looks out for the Earth in its practices, such as ethically buying resources, being 100% vegetarian, free from animal testing and using naked packaging. 
Ten Thousand Villages- (Ten Thousand Villages Website):
This fair trade shop boasts a selection of mainly home, wellness, outdoor and other comfort goods all produced sustainably by independent artisan groups. They holistically invest in marginalized and sustainable artisans across the globe, pursuing empowering projects in these communities. 
Uncommon Goods- (Uncommon Goods Website):
A fair trade B-corp which encourages sustainable practices of their artisans and producers. Uncommon Goods supplies a wide range of gifts and goods including selections within home, wellness, apparel and accessories. They also offer special gift guides and collections, one impressive one being their "Black Makers" selection of black-owned businesses and products. 
Sources For Clothes Specifically 
The apparel industry is such a massive climate contributor, it makes it an incredibly important area to be more sustainable within. A giant sustainable clothes market has met this demand with ease and excellence and is still vicariously growing. With so many amazing options this section will only give a couple of the best and some honorable mentions, so keep an eye out nonetheless! 
Happy Earth Apparel- (Happy Earth Apparel Website):
Happy Earth Apparel not only excels in its cool gift and apparel collections, but in its sustainability. They only use sustainable textiles, recyclable and post-consumer materials for packaging and vegan production. Additionally, they are carbon neutral and have championed sustainable projects across the globe for local communities and global efforts, while being fair trade.
Tentree- (Tentree Website):
With over 50 million trees and counting planted, sustainable production and tons of ambitious sustainability projects, Tentree is a great choice. What principally makes them so great though is the wide selection of impressive accessories and all types of clothing, ranging across apparel types and comfortability levels, including cool collections and gift guides. 
Boden- (Boden Website):
For more of an upscale collection, Boden is an amazing sustainable and ethical fair trade option. The stylish British clothes selection for all orientations of loved ones possesses an ambitious collection of sustainable commitments, as well as other fair trade, ethical and social justice goals.
Honorable Mentions- 
Some other great options to check out are Patagonia, Alternative Apparel and  Good Fair. Additionally, thrifting is another great way to decrease carbon footprint and resource use by reclaiming goods and materials surrounding fashion. Even with thrifting being so consumer-oriented, as consumers will find unique individual offers and choices, it is still worth mentioning a couple sites. Some trustable and complete sites include Poshmark, Depop and ThredUP.  
Sources For Shoes Specifically 
Like clothes, shoes are a continuous consumer experience, and are a great place to be sustainable. Here are some of the best sources among an industry with limitless other amazing alternatives. 
All Birds- (All Birds Website ):
All Birds is a personal favorite because of their incredibly wide selection of great looking shoes matching the likes of many mainstream shoe styles. They are at the forefront of the sustainable shoe market because of this expansive selection of mainly comfortable, casual and activewear shoes. Their sustainability centers around their ambitious goals for carbon neutrality, sustainable production and most of all reclaimed and organic materials.
TOMS- (TOMS Website):
Through their countless projects and partnerships surrounding social justice equality, humanitarian relief, mental health and more, TOMS shines. Amazingly, they have given over 100 million pairs of shoes to children around the world. Their ambitious sustainable production and goals are transparently detailed in reports on their site. Within shoes, they have a massive selection unlike many other unsustainable and sustainable sources alike of countless impressive styles and builds.
Made Trade- (Made Trade Website):
Made Trade acts not as a single brand, but as a trendy upscale marketplace for a variety of brands and designers. They have a diverse collection both in price and type of women's shoes, as well as a similarly large and comprehensive men's selection. The company excels in their sustainability, fair trade, ethical production and support of people of color and female-run businesses and artisans. 
Whatever you celebrate, hopefully these sites help you give someone a quality gift that both provides them joy now and one that sustainably promotes everyone's global climate future. Remember though that this flourishing industry is endless to be explored. In a holiday spirit, consumers can feel good about the quality and sustainable products, worthwhile companies, artisans, projects, local economies and small businesses they are supporting by shopping green and consciously. Even just shopping within our local community can do wonders! Happy Holidays!