School spirit on the rise at CHS sporting events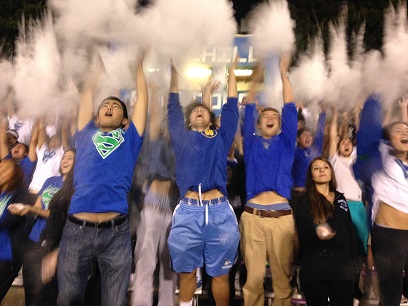 By Jordan Janis and Katherine Michael, Online EIC and staff writer
October 24, 2014
Hang on for a minute...we're trying to find some more stories you might like.
"We've got spirit, yes we do; we've got spirit, how 'bout you?"
Since we were sophomores, the CHS student section—also known as the "Dawg Pound"—has not been able to truthfully call this classic spirit chant.  However, this year, that has changed; attendance to sporting events has increased by an estimated 10 to 15 percent, according to athletic director Scott Rivinius. Overall, school spirit has dramatically increased.
"School spirit has been better at athletic events this year," Rivinius said.  "We have had higher attendance for all of our fall sports compared to the past several years, and at games, fans have been more involved in cheering on their teams and enjoying their time at the games."
In order to increase school spirit, students have been wearing blue and green to school on Fridays, participating in "blue-outs" and "white-outs" at the games and using a variety of new cheers, from chants for individual CHS players to "Aboo, Aba," a chant of random noise with the purpose of pumping up the crowd.
"It's been a lot more fun cheering at games since people are actually involved and calling back with us," senior cheerleading captain Elisa Carpenter said.
Students have even tried a new method of showing their school spirit: clapping baby powder into the air at kickoff to demonstrate their energy.  However, this will not be allowed at games anymore.
According to Rivinius, the throwing of baby powder can cause health issues for people with respiratory illnesses and can be mistaken for smoke or an explosion, so students who throw powder at games in the future will be ejected.
The senior class led the now-banned baby powder throwing, in addition to many other spirit tactics.
According to Rivinius, a big factor in the recent intensifying school spirit is the senior class's involvement at school events.
"A strong example is being set by the senior class," Rivinius said.  "Collectively, they have strong school spirit, and the underclassmen are responding to that leadership."
Not only have individual students tried to strengthen CHS pride, but the SGA as a whole has also made a special effort to boost school spirit.
"We've been putting more things out to get students more informed of school events," senior president Marco Gutierrez said. "We've made numerous advertisements on the Daily Dose, as well as reestablishing the Superfan cookouts, which we did not have last year."
The SGA instituted a Spirit Bus for the away Wootton-CHS football game in September. Students who bought Superfan shirts and attended the Superfan cookout received a ride to the game with their friends.
"Those who went told me that they had a great time and wanted to do it again," Rivinius said.  "It is definitely something we can do in the future based off of interest."
According to Gutierrez, CHS has made major improvements in school spirit, but "can still grow our school spirit just as the Class of 2012 was known for."
Ideas for improvements include themed football games and more announcements on the Daily Dose of upcoming sporting events and sports scores.  However, many students and staff members feel that an important contributor to school spirit, despite any improvements by the student body, however, is the football team's 4-2 record, as of Oct. 16.
"When the team is winning, everybody wants to go, and it's more fun," English teacher Shelley Perrett said.
However, school spirit also greatly influences the performance of the football team and consequently improves its record.
"The more fans we have brings more energy to the players, and it's definitely contributed to our record," senior wide receiver Jesse Locke said.  "The louder the student section is, the more energy we have, so the better we perform."