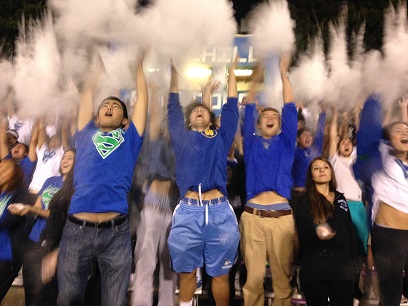 By Jordan Janis and Katherine Michael, Online EIC and staff writer

October 24, 2014
"We've got spirit, yes we do; we've got spirit, how 'bout you?" Since we were sophomores, the CHS student section—also known as the "Dawg Pound"—has not been able to truthfully call this classic spirit chant.  However, this year, that has changed; attendance to sporting events has...
By Jordan Janis and Danielle Kiefer, Fact Checker and Circulation Manager

April 24, 2013
When some in Montgomery County hear the name Winston Churchill, several things come to mind: a National Blue Ribbon school, a sports rivalry or a bunch of rich kids driving BMWs.  However, one of the last things that people think of is the namesake of the school itself: Sir Winston Leonard Spencer ...
Winston Churchill High School

63

Mar 4 / Girls Basketball

Winston Churchill High School

72

Mar 2 / Girls Basketball

Winston Churchill High School

60

Feb 21 / Girls Basketball

Winston Churchill High School

65

Feb 21 / Boys Basketball

Winston Churchill High School

73

Feb 7 / Boys Basketball

Winston Churchill High School

55

Jan 24 / Boys Basketball

Winston Churchill High School

53

Jan 24 / Girls Basketball

Winston Churchill High School

62

Jan 15 / Boys Basketball

Winston Churchill High School

72

Jan 15 / Girls Basketball

Winston Churchill High School

64

Jan 10 / Boys Basketball
The Churchill Observer- May 2018