Maddi Xu hits all the right notes for a worthy cause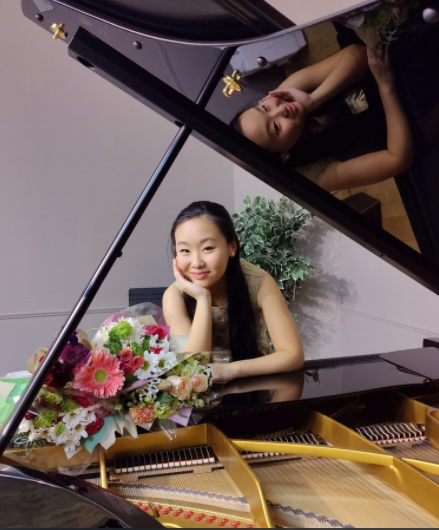 Something as simple as a sweet melody can express emotions, tell a story and touch a person's heart in a way that words can not. WCHS sophomore Maddie Xu hoped to do this by combining her love for music and helping the community in her headline performance on March 26 at The Arc Montgomery Piano Fundraiser at Piano Craft in Gaithersburg.
"I was nervous to perform because it was the first time in three years that I played in front of such a big crowd since COVID-19," Xu said. "Once I started playing, it felt so natural. It was great to get back out there."
Xu started piano at three-years-old and, under the guidance of her father, began playing seriously when she was five. Since then, Xu has devoted many hours to playing the piano daily. Her hard work and commitment as a musician have not gone unnoticed. 
"My favorite memory of playing the piano was when I was invited to Russia by conductor Vladimir Lande to play with the St. Petersburg Symphony Orchestra when I was nine," Xu said. "I still remember the crowd clapping and hollering for me. I felt like a star."
After winning the International Concerto Competition, Xu got the opportunity to play with several other prestigious Russian orchestras including ones in Volgograd and Krasnoyarsk. Xu's early dedication and connection to the piano contributed to her success at such a young age.
"I used to hate playing due to the pressure that came with it. I was always compared to other players and still am," Xu said. "However, dealing with my personal struggles allowed me to realize that I actually loved the piano. It helped me cope with mental stress and sadness by expressing my emotions through music. The piano has become my best friend." 
Through the use of music as an emotional outlet, Xu has discovered the benefits of having the piano by her side through the highs and lows of life. By sharing her musical talents, Xu hopes her music can bring comfort and inspiration to others as it did for her. She intends to use her abilities to help individuals as well as the community as a whole by advocating for certain issues. All she needed was a cause to support. 
"I'm really doing this for my brother, Max, who has been a special needs child ever since he was born. He can't talk and has never said a word before. A dream I had back when I was little was that one day he would finally learn how to talk. However, that never became a reality. But over the course of the years, I realized I can get close to that reality by helping people like Max. I'm a firm believer that all children with disabilities deserve a chance, a shot at a future they want to build," Xu said in her speech at the piano fundraiser. 
Xu's close relationship and love for her brother motivated her to advocate and raise money for mental health and the special needs community. However, Xu did not do it alone. 
"I wanted to partner with the Dear Psychology Club at WCHS because their club is focused on psychology, how the brain works and mental health, which was relevant to the cause of the event," Xu said.
Xu and Vicky Shan, a sophomore at WCHS and president of the Dear Psychology Club, teamed up and were ready to raise funds for a good cause. However, finding an organization to support was much easier said than done. For four weeks, Xu and Shan were turned down by many of the organizations they approached. With only a couple of weeks left until the event's date, they were worried. Nevertheless, Xu and Shan refused to give up.
"Since my brother used to go to The Arc Montgomery County for their services, I thought about trying one last time with them. When they gladly accepted, I was so relieved," Xu said. 
The Arc Montgomery County supports children with disabilities similar to Xu's brother and offers a wide range of services to support people of all ages and families affected by disabilities.
Their offered services include child care, work skills training, employment, community living services, resources and respite care for those in the special needs community and their families.
"We were able to communicate with The Arc Montgomery often through emails," Shan said. "I felt like we had great chemistry and teamwork."
Despite the short period of time together, Xu and Shan worked effectively with The Arc Montgomery County to organize the event. With only a week left, Xu and Shan advertised the event through the WCHS morning announcements and posted flyers all over Instagram.
"The performance was more intimate than grand, but the fact that so many people came than expected made it feel grander," Xu said. "There were not even enough chairs."
Xu and Shan's efforts and perseverance paid off. Through online donation links, in-person checks and cash to The Arc Montgomery County, Xu and Shan's event raised a total of $1,050. 
"There was so much love put into every donation. Those that were there to support me are truly amazing," Xu said. "I can't wait to play and plan more events for The Arc Montgomery County and find different opportunities to impact the community through music."