Spice up your playlist with the Observer staff's songs of the summer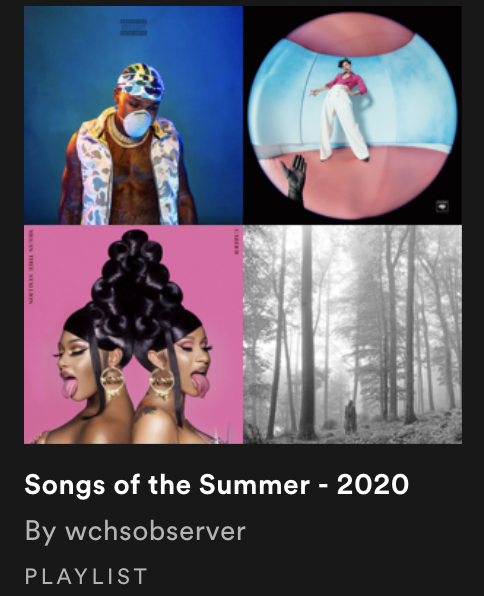 Feeling like you missed out on summer experiences this year? Not ready to let go of that carefree summer vibe? Take a listen to these songs to bring you right back to the warm weather, even as school resumes. 
The Observer staff picked what they consider to be the "song of the summer" below. Some of these songs were released this year, while others are older songs that were repopularized due to the social media app, TikTok. It would be hard to pick just one song to sum up the easygoing feeling of summer, but these songs collectively come close. 
Scroll to the bottom for our completed Spotify playlist.
"ROCKSTAR" by DaBaby (feat. Roddy Ricch)
"'ROCKSTAR' became popular due to TikTok, but the song blew up after DaBaby made a Black Lives Matter remix, featuring a new verse that touched on the issue of police brutality and systemic racism in the country. Despite the heavy topic of the song, the lyrics are very catchy and it has become a huge hit." – Aaron Simon, Photo Manager
"Watermelon Sugar" by Harry Styles
"'Watermelon Sugar" starts out with a slow and chill vibe and as it gets into the chorus, it shifts into a more upbeat energy. It is a fun song to listen to when driving in the car or laying by the pool. It was released towards the end of last year, but it became super popular this summer and the radio was constantly playing it." – Charley Hutton, Advertising and Subscriptions Manager
"WAP" by Cardi B (feat. Megan Thee Stallion)
"This Cardi B song became popular this summer because of it's upbeat and energetic vibe. It is very catchy and has a well known TikTok dance that goes alongs with it." – Ava Freeman, Online Editor-in-Chief 
"the last great american dynasty" by Taylor Swift
"This song was released in July of this year as part of Taylor Swift's newest album, 'folklore.' It tells the story of the woman who used to live in Taylor Swift's Rhode Island house, then ends the song with a parallel about herself now owning the house. With its catchy tune and captivating lyrics, it is most definitely the song of the summer." – Jordan Pashkoff, Assistant Online Editor 
"Pretty Girl" by Clairo
"The song was released in 2018 but didn't blow up until the summer of 2020. Clairo became a breakout artist because of her hit song "Pretty Girl" which grew exponentially because of TikTok and a New York Times article. With over 150 million streams on Spotify alone, "Pretty Girl" is easily the song of the summer." – Justin Greenzaid, Assistant Sports Editor 
"Heather" by Conan Gray
"The song was released in March and then re-released in September, and was popularized on TikTok. 'Heather' then became a word to describe someone who is just overall beautiful, nice, smart, basically everything someone wants to be." – Allison Jacobs, Editor-in-Chief
"Let's Fall in Love for the Night" by FINNEAS
"Released in 2019, this song represents the 'spur of the moment' feeling of falling in love. The song is perfect for sunset drives and warm summer nights. It features a more calming vibe than the typical upbeat summer song but still keeps a cheerful tone." – Emily Zhang, Features Editor 
"Are You Bored Yet?" by Wallows (feat. Clairo)
"Although released in 2019, this song caught fire this summer just as its artists both respectively did. The song's soothing, but bubbling beat induces a fun laid-back summertime feeling while the lyrics chronicle a relationship of waiting and boredom; this indefinitely uncomfortable wait relating to 2020's summer of waiting for the pandemic's end." – Quinn Cook, News Editor 
"Come On Eileen" by Dexys Midnight Runners 
"This year, a lot of trends came back including 90s fashion and music. This song came out in 1993 and is essentially summer in a song because of its fun and cheerful beat." – Melissa Redlich, Sports Editor
"In the Air Tonight" by Phil Collins
"'In the Air Tonight' has a nice drum solo that makes you feel electrified and pumped up. This song became popular once again after twins, Tim and Fred Williams, listened to the song and posted their reactions on YouTube. Most memorable, their reactions to the drum solo." – Jeremy Fredricks, Copy Editor/New Staff Liaison 
"Play Date" by Melanie Martinez
"This song came out in 2015 but gained immense popularity due to it being used for a TikTok trend. The combination of an amazing hook with catchy lyrics promised an addictive song to listen to all summer." – Ela Jalil, News Editor
"Stuck with U" by Ariana Grande and Justin Bieber
"This song was released leading up to summer and quickly became a hit because of the timely relevance. This summer was unlike any other because of having to be quarantined, but this song put a positive upbeat spin on a hard time." – Rachel Mattison, Assistant Advertisement and Subscription Manager 
"F2020" by Avenue Beat
"We can all agree that 2020 has been a total disaster. Even though the lyrics complain about 2020 the song is upbeat and fun to listen to. 'F2020' reminds me that I'm not the only person who is very ready for 2021." – Jessica Klein, Assistant Arts Editor 
"Ghost Town" by Kanye West
"Though released back in 2018, the song became popular for a bit on the app TikTok. 'Ghost Town' has a very mysterious, empty feel. These qualities reflect the quarantine as both illustrate the uncertainty of quarantine." – Andrew Chan, Editor-in-Chief 
"Lemonade" by Internet Money (feat. Gunna, Don Toliver and NAV)
"This is the song of the summer because it was released August 14th, which is peak summertime. It also has a really catchy hook and chorus. Though it's a rap song, it's got a very chill feel to it." – Elijah Savett, Sports Editor 
"Bonfire" by Slow Kids At Play
"Though it was released in 2011, the reggae punk rock song is the embodiment of summertime. Hailing from a lesser known band, the upbeat tune and relaxed lyrics capture just what summer is about: having fun as a teen and making memories." – Maya Bhattiprolu, Online Editor
"money machine" by 100 gecs
"The popularity of  'money machine' on TikTok helped lead to the rise of hyperpop as a genre in the public eye. The song's 'glitchy' tone made it the perfect song to enjoy while spending time online." – Trevor Gardemal, Social Media Manager
"3005" by Childish Gambino
"Although it was released over five years ago, it still embodies the summer spirit that every teen wants to feel. The lyrics and sounds are relaxing and upbeat which gives it true summer vibes." – Ryan Weiner, Assistant News Editor
"Money Trees" by Kendrick Lamar (feat Jay Rock)
"After going viral on TikTok, this 2012 song resurfaced. 'Money Trees' has an energetic, upbeat tone which is perfect for TikTok. Many teens learned the trending dances to Lamar's eight year old hit." – Ella Kaminsky, Opinions Editor
"Mood" by 24kGoldn (feat. Iann Dior)
"This upbeat and catchy song went viral on TikTok, and soon after showed up on many popular playlists. 'Mood' has such a summery vibe to it, so it makes me think of the summertime when I listen to it. Summer is when I'm most relaxed, so listening to the song always makes me smile." – Ally Salzberg, Opinions Editor  
"B.S." by Jhene Aiko (feat. H.E.R.)
"This song is the perfect hit to chill by the poolside and feel the sun warm up your skin. It was released in March of 2020, and is one of Jhene Aiko's biggest hits." – Nur Yavuz, Features Editor
 "Righteous" by Juice WRLD
"This song was released in April and was an exciting thing that happened during lockdown. 'Righteous' is really intense and upbeat. I like the message which is about living and being your true self." – Austin Vinner, Observations Editor
"august" by Taylor Swift
"'august' is easily one of the best songs from Taylor Swift's new album 'folklore' with its story-telling and wistful tone. The lyrics perfectly encapsulate the feeling of a fleeting summer, something that many of us can relate to. – Olivia Yasharoff, Arts Editor 
Check out The Observer's new Spotify account @wchsobserver and listen to our playlist "Songs of the Summer – 2020" to listen to these nostalgic picks anytime you want. https://open.spotify.com/playlist/2zl62rzAGK76Sxer5a3R1O?si=PmnaYIuHTrS0cTouqcnsgg