'Search for Everything' Finds the Right Note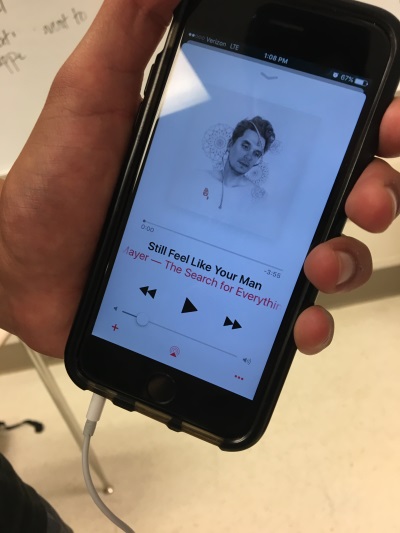 Nearly 16 years after he released his first studio album, John Mayer has yet again found success while managing to revolutionize his sound on his new album, "The Search for Everything."
In the newest album, his seventh altogether, Mayer moves away from the subtle, humble folk sounds of his previous album "Paradise Valley." "The Search for Everything" finds a balance between the funk and blues of Mayer's early releases and his soulful R&B side. Although the ingredients for this type of soulful album, such as Mayer's falsetto, harmonies and enchanting guitar riffs have been there throughout his illustrious career, they never truly materialized into something great until now.
Fans hoping for a return to the funky adult-rock sounds that shot Mayer to the top of the charts back in the 2000s may be initially disappointed, but they should by no means write off this album. After all, what makes so many fans excited about Mayer in the first place is the fact that he always evolves and takes new steps forward, and this album is no exception.
Rather than rekindling his past, Mayer presents a vibe conveying a new maturity and sophistication with each song in the album. The songs on the album sound distinct from each other, yet none of them would fit in with the tones of Mayer's earlier albums. This is a true testament to the diverse and multifaceted songwriting abilities that continue to set John Mayer apart from other artists.
The first half of "The Search For Everything" proves why this album was worth the four-year wait.
"Still Feel Like Your Man" opens the album with vintage Mayer falsetto vocals and a jazzy piano in the background. Once the staggering and soft percussion kicks in, you would almost expect Bruno Mars to start singing, as it sounds a bit like his jazzy and funky music. Surprisingly, the elements blend perfectly, and "Still Feel Like Your Man" shows yet again how versatile Mayer is as an artist.
Mayer continues into uncharted territory in the album's third song, "Helpless," in which his voice takes on a different vibe without any reverb or echo effect. This is rare for any Mayer song. Up to this point in the album, Mayer uses his signature electric guitar solos sparingly, so the strong rock and funk-infused solo in this song stands out as a highlight.
"Love on the Weekend" is the next song, and it is the most mainstream pop song that Mayer has produced in a long time. The mellow guitar, subtle percussion and thoughtful lyrics make this song solid. Though less unique and innovative than the rest of the album, this style of song is executed much better in "Love on the Weekend" than Mayer's previous attempts at pop hits back when he was recording songs with Taylor Swift in 2009.
"In the Blood" comes next and closes out the best three-song stretch of the album. With a smooth and swelling acoustic background that had been lacking from the album thus far, this song best encapsulates Mayer's life perspective as it influenced the album. In this song, Mayer contemplates his family's impacts on him, which are always "in the blood" of what makes him who he is.
On the second half of the album, Mayer slows down the tempo and puts more emphasis on his solo vocals, lyrics and subtle acoustic riffs. The results are a set of ballads that seem to strive for the success of previous vocal-focused albums "Born and Raised" and "Continuum" but just seem to be missing something.
"Moving On and Getting Over" is the exception, and is a hidden gem in the unmemorable second half of the new album. Filled with harmonies, bass runs and a catchy stop-and-stutter rhythm, this folk and blues song is anything but simple. Brilliantly, John Mayer takes all of these elements and creates a song that is an easy listen and isn't too busy.
In "The Search for Everything," it is refreshing to hear Mayer apply the solo guitar talent that put him on the map way back in 2001 to more and more styles of music. Over the course of his career, Mayer has become decreasingly reliant on his guitar and more willing to experiment with new sounds.
As John Mayer sang himself in "Changing" from the new album, "I may be old and I may be young, but I am not done changing."
This could not ring more true for Mayer's musical career, as he continues to evolve as an artist at age 39 and after 16 years since his first studio album.
Overall, John Mayer's "The Search For Everything" satisfies fans both old and new as it blends elements from many genres into a unique and soulful work. As a lifelong fan of Mayer's, I believe this album to be his best since "Continuum" back in 2006. Though some artists falter under pressure to change and revolutionize their sound, Mayer succeeds by keeping the core elements of what makes his music great and applying it to new vibes.