Student Art Spotlight: Anthony Ratinov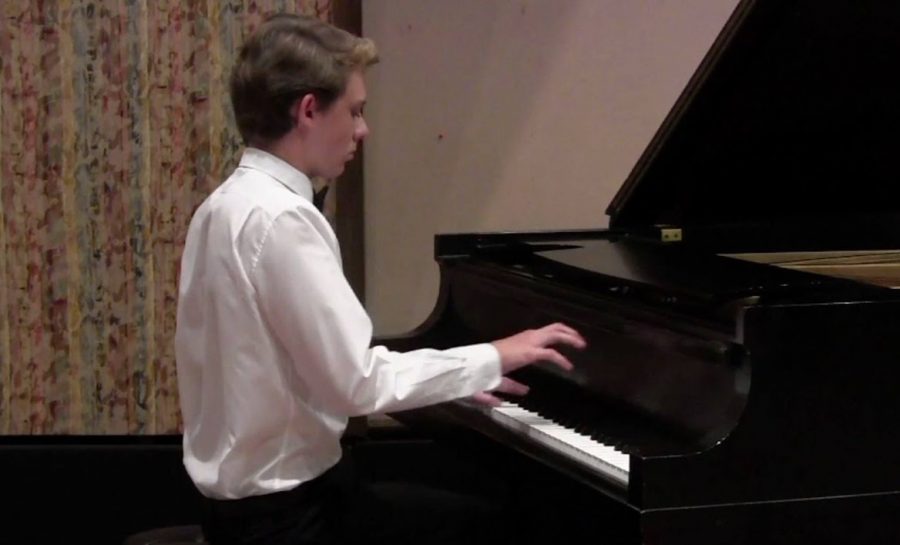 By Emiliana Cardinale, Production Manager
April 29, 2016
Senior Anthony Ratinov began playing piano at the age of 4, and his grandmother has been his teacher ever since. He started playing because his grandmother noticed he was singing along to the piano and decided to give him lessons.
"My biggest inspiration, not only in music, has probably been my grandma," Ratinov said. "Her persistence at achieving her dreams has inspired me. In Russia, she was discriminated against due to her being Jewish, and Russia was very anti-Semitic when she was growing up, so she was denied the opportunity of being a concert pianist, even though she was extremely talented. So she became a teacher, and never gave up despite the discrimination she faced."
Piano has been a crucial part of Ratinov's life ever since he was little because it provides him with a way to connect to his family and a way to balance the stress in his life.
"I enjoy piano because it helps me find an equilibrium in life," Ratinov said. "It helps balance all the academic courses I take. I de-stress, and constantly listen to music while I work. Music is an integral part of my family, so it is something that we bond over, and it keeps our relations strong. I also love the wide-application of piano—I can play almost any genre and any song."
Despite the fact that Ratinov is not planning to study music in college, he wishes to continue pursuing it in other ways.
"My main musical aspiration is to never forget music and to keep it as a fundamental part of my life," Ratinov said. "Despite majoring in engineering in college next year, I plan on actively engaging in musical extracurriculars and ensemble groups. I want to keep playing as long as I can."
One of Ratinov's greatest accomplishments was winning the arts competition at CHS last year. He was selected for a Reward of Excellence for the National Society of Arts and Letters specifically for the Washington DC young artists competition.
"It really served as my introduction into the musical world at school," Ratinov said. "As a result, I became involved in various orchestras and performing groups this year that I was not a part of last year. I was extremely honored to have been selected as the winner last year, and it was great seeing all the talented musicians and artists from Churchill come together and perform."
The young artists competition is open to all juniors in the area. Teachers nominate students for the competition after an audition process in which teachers interview the student about how art plays a role in his or her life. Art teacher Brendan Roddy was part of the panel that nominated Ratinov for the competition.
"When we had him perform during the Arts Festival, I teared up watching him perform," Roddy said. "It's moving to watch someone do something they love, and it evokes emotion. I appreciate that being a fellow artist."
Another major accomplishment for Ratinov has been achieving a balance between his passions, particularly science and music.
"It was sort of difficult to explain to my grandma that I did not want to be a professional pianist, but we talked it through, and it was a very important step in my musical and scientific life," Ratinov said.
Ratinov has a wide range of pieces he enjoys to perform.
"My favorite solo pieces to perform are Liszt transcendental etudes, any piece by Rachmaninoff or Scriabin, and various Chopin pieces such as his ballads, polonaises, or scherzos," Ratinov said. "I also love performing pieces with a group. I recently performed with Young Artists of America at Strathmore, being mentored by Stephen Schwartz, the composer of Wicked, and playing his piece, 'Children of Eden.' It was one of the highlights of my life—we nearly sold out Strathmore, and working with the talented musicians and singers was an incredible opportunity that I feel so lucky to have been a part of."
Ratinov performed at the Kennedy Center April 25. Last year he was selected as the winner of an arts competition and went to the ceremony at the Kennedy Center.
According to Ratinov, winners from last year are welcome to perform for this year's selections, so he was selected to perform at this year's ceremony.
"I am extremely excited for my upcoming performance at the Kennedy Center," Ratinov said. "I still cannot believe that I was selected from last year's winners to perform at this year's ceremony, and I am extremely thankful to music teacher Kris Sanz and Roddy for involving me in this program. I have never performed solo at the Kennedy Center before, so it is definitely exciting and nerve-racking."