Logic's "The Incredible True Story" Review: 9.5/10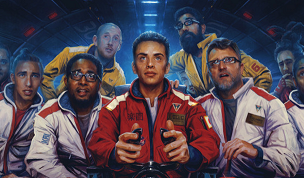 Featuring thunderous lyrics, stellar production and a brilliant concept, Logic's The Incredible True Story is a tour de force and an outstanding follow-up to his debut record Under Pressure.
The Gaithersburg-born emcee released the album Nov. 13 to great fanfare. Preceded by singles "Young Jesus," "Like Woah" and "Fade Away," The Incredible True Story set itself up to either disappoint or astound, and it clearly achieved the latter.
The intro, "Contact," sets up the otherworldly feel of the album with a drum beat and light background vocals reminiscent of Kanye West's "Amazing." "Contact" is followed by "Fade Away," a classic Logic track detailing his past, with a groovy hook and a smooth, relaxing flow to the music.
On "Like Woah," the rapper offers an interesting glimpse into his efforts to keep up with the struggles of his current lifestyle. The following song, "Young Jesus," highlights Logic and his collaborator Big Lenbo's slick lyricism as they engage in head-bumping braggadocio rap.
"I Am the Greatest" and "City of Stars" are The Incredible True Story's signature, standout tracks. In "I Am the Greatest," Logic simultaneously dismisses those who disapprove of him and asserts his own dominance within the rap genre to a thumping instrumental track. However, "City of Stars" is undoubtedly the album's best song and arguably the rapper's greatest performance ever. The track echoes once again West, with a beat and autotuned vocals similar to those found on 808s and Heartbreak and a lyrical delivery evocative of My Beautiful Dark Twisted Fantasy. Logic's criticism of the current state of hip hop comes off as brilliantly honest, valid and courageous.
"Paradise" and "Never Been" function together as a well-done introspection of the rapper's past and allows the listener to understand and appreciate his outlook towards life. These powerful tracks help one to truly grasp what motivates Logic and relate to his desire to succeed.
"The Incredible True Story" fittingly ends the record with an important message to listeners to do what they enjoy in life, not what others dictate for them. This approach to the future is evident in Logic's love of making music, and in suggesting that others do the same, he displays an integrity not found in many other artists.
Interspersed throughout the album are skits that conceptualize the album as being listened to in the year 2115, after Earth has been abandoned and humanity is in search of a new habitable planet. The chronicle of spaceship pilots Quentin Thomas (Steve Blum, Call of Duty and Cowboy Bebop) and William Kai (Kevin Randolph) establishes a fascinating plot that correlates to the song titles and provides well-timed witty dialogue.
The album features consist relatively few artists when compared to Logic's other works, but guest vocalists such as Lucy Rose and Jesse Boykins deliver when called upon. Perhaps The Incredible True Story's greatest forte, however, is its instrumentals. Producers 6ix, Sir Dylan and Logic himself as well as others combine to produce entrancing, impressive beats.
With masterful lyricism, superb production and an intriguing concept, The Incredible True Story surpasses expectations and displays Logic's continued growth as an artist. If CHS students are on the lookout for quality new music, this album is definitely worth a listen.