CHS hosts first Student Author Night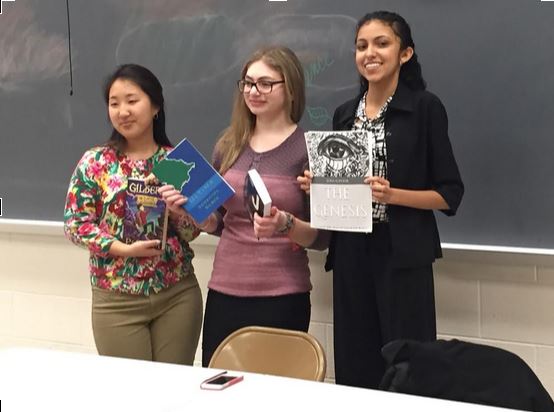 The CHS Educational Foundation held a student author book showcasing and signing event Feb. 4 featuring CHS seniors Sammi Silber and Elina Kapoor and SMOB representative and Clarksburg HS senior Dahlia Huh.
The student authors discussed the writing and editing process, their inspiration and the plots of their novels and took turns answering questions from the audience.
Silber's first book, Ultima, takes place 415 million years in the future in a dystopian setting where the continents form back into the supercontinent Pangaea Ultima. The J is a novel about Silber's high school experiences, particularly in journalism.
"Ever since I was young, I loved to write," Silber said.
Kapoor's The Genesis: An Analysis of Psychological Metaphysics from a Contemporary and Historical Perspective incorporates teenage angst, biblical references, biting humor and analysis of classic literature. All proceeds from the novel go to charity:water, a non-profit organization aimed to supply clean and safe drinking water to people in developing countries.
"I learned to release my emotions through writing," Kapoor said. "All these feelings turned into words, then sentences and then paragraphs."
Huh coauthored Gilbert and the Scepter of Silence with her sister Sunmee in August of 2013. It is a children's book about the story of Gilbert, a boy who discovers he is a mermaid and is dragged into a mysterious world three miles below the ocean's surface.
All of these young authors' works can be found and purchased on Amazon.
"Don't be afraid of constraint," Kapoor said. "Open up to all the experiences you've had. Stick to what you are doing, write it down and just let it flow."