Of Monsters and Men delivers with latest album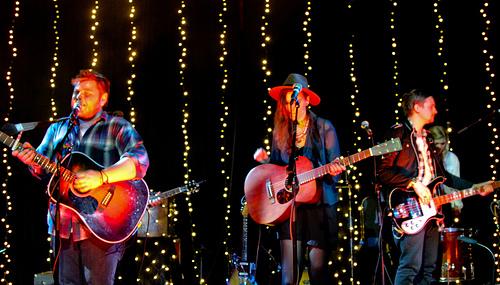 By Kara Philips, Staff Writer
April 30, 2012
Nowadays, music has become a competition of who can get the best beats with the catchiest lyrics, lacking the creativity and enthusiasm that inspired most artists to pursue music in the first place.
Then there is the new Of Monsters and Men album My Head Is an Animal. This Icelandic sextet uses a genre of creativity and enthusiasm that is rare in today's pop artists. Creating such entrancing music is not a simple task to accomplish, yet on My Head Is an Animal, Of Monsters and Men make it seem easy.
The album begins with "Dirty Paws," a remarkable track that starts out relaxed and acoustic, but ends up surprising the listener with boisterous percussion. The album then slows down with "King And Lionheart," where female vocalist Nanna Bryndis Hilmarsdóttir illustrates the unconventional attraction of her voice.
The album picks back up with "Mountain Sound," where the explosive energy generates an electric atmosphere. Following "Mountain Sound" is the track "Slow and Steady," where the two lead singers Hilmarsdóttir and Ragnar Þórhallsson delineate the bare beauty created from the combination of their voices.
The track "Sloom" also showcases the angelic blend of the pair's voices through the poetic lyrics. Then comes "Little Talks," one of the most popular tracks on the album. "Little Talks," like "Mountain Sound," bursts and maintains an addictive energy throughout the song.
The album then decelerates with "From Finner" where Hilmarsdóttir's voice and the percussion work perfectly to create a track that differs from the other songs. Proceeding "From Finner" is another diverse track called "Six Weeks" where the entire band sings in accord.
The more popular track "Love, Love, Love," ensues after "Six Weeks" and displays sadness between the two lead singers as they sing about love's complications.
The one critique of this album is that some of the songs sound too similar to one another with their melodic framework and repetition of lyrics.
With the release of the Into the Woods EP in 2011, the band toured around the United States. Young or old, anyone can find one track on this album to dance around to or listen with the eyes closed and mind open.