MCPS Special Olympics team qualifies for nationals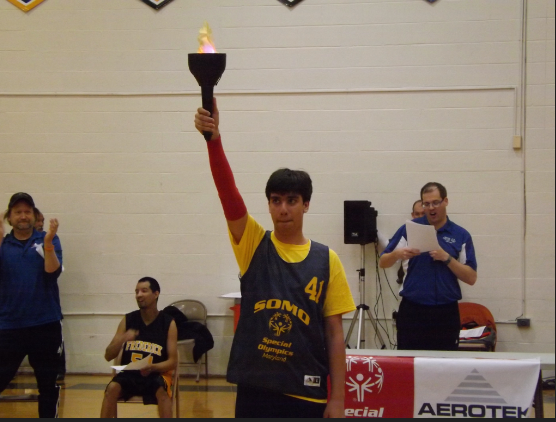 By winning the state championship, the Montgomery County High School Special Olympics basketball team scored their way to the national championship in Seattle this year.
Every four years, the nation holds a special olympics for athletes with disabilities. This year the Montgomery County co-ed young adult team took their shot at victory.
According to Adam Gruner, a 2016 CHS graduate and new member of the Special Olympics basketball team the players on the team are taking nationals in stride and are very focused on nationals.
The coaches of the team supported them throughout past seasons, never failing to get the best effort out of the team.
"Head coach Mike and coach Melia have pushed us to our limit during each and every game and practice," said Gruner.
However, this is not the first year Montgomery County has sent a team to the national championship. Each of the 78 Special Olympics athletes in Maryland will be given the opportunity to compete against approximately 3,000 other Special Olympics athletes this year.
"Montgomery County has a tradition of sending teams to USA Games (nationals), which are held every 4 years, just like the Olympics," team head coach Michael Klamm said.
The Special Olympics program has been around for a while, giving athletes with disabilities opportunities to participate in sports they enjoy and give them a sense of community.
"Most people don't know Special Olympics started in Montgomery County," Klamm said. "Soon after President John F. Kennedy took office in 1961, his sister, Eunice Kennedy Shriver, launched a crusade to change the way the world treated—or ignored—mental retardation. This program gained credence as the Kennedys disclosed that one of their own, Rosemary Kennedy, had mental retardation."
From the beginning of Special Olympics and onward, Montgomery County and Maryland have had an important goal of involving disabled athletes into a competitive yet supportive environment.
According to the Special Olympics Maryland website, the vision of the whole program is to ultimately help bring Special Olympics athletes into a bigger community where they can be accepted, respected and given opportunities to participate and become productive citizens.
The Montgomery County teams have been made for different age groups. The basketball team is aimed towards the teenage and young adult age group, giving the athletes a team in which they are able to relate and work together.
According to Klamm, the basketball team has both college and high school students, typically ranging from 17-24 years old.  
The team had a successful season, ending with an impressive record, even with competing against tough opponents.
According to Klamm, the team's record last season was six wins and two losses, ultimately qualifying them for Nationals.
Additionally, Klamm had the opportunity of coaching the same team for the past few years, which enabled him to further develop and improve the team.
"I took over the team four years ago," Klamm said. "Each year we have continued to move up in divisions and really seen great progress. I am so proud of the athletes and everything they have accomplished."
Over the past season, the team showed improvement and persistence when playing against harder competition and more important games.
"I think the best game we played was the first game of the State tournament," Klamm said. "This game I could really tell the team was enjoying themselves and putting to work all the skills they learned throughout the season."
With nationals coming up, the team and coaches are looking forward to their performance and upcoming season ahead.
"I am very excited that we have another season to get prepared before the USA Games next summer," Klamm said. "I know this team has great potential and a chance to bring home the Gold Medal."
*If anyone reading your story would like to help fulfill the once in a lifetime opportunity in attending National Games, please go to this website http://somdmontgomery.org/store/page4.html and make a donation. No donation is too small. Please use "Hustlers or USA Basketball team" in the comments.