OSPN's top five most memorable fall sports moments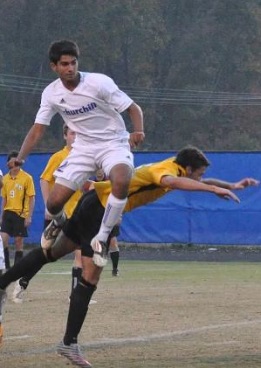 In any sport, a well-executed move, a quick reaction, and even pure luck can produce extraordinary plays, but no matter how it happens, every great play deserves credit.
This month, the Observer decided to rank our top five most memorable plays from the various fall sports team's achievements.
Girls Soccer: Senior Sarah Johnston's opening goal in the WJ blowout, Oct. 1
Soccer goals are extremely hard to come by and scoring just three is considered a lot. However, after Johnston put the first goal on the board against Walter Johnson, the CHS girls varsity soccer team dominated the field and pulled out a 6-2 victory.
"The first goal set the tone for the entire game," senior captain Annabelle Phillips said. "It was a great, fast play."
Going into the game, the Bulldogs were prepared for a neck-and-neck battle, but as soon as Johnston scored, the girls opened the floodgates and scored five more times, a true display of dominance.
"We thought it was going be a hard-fought game, because not only was it a rivalry game, but we were both undefeated at the time," senior Natalie Allen said. "We came in expecting it to be a pretty close match."
But after Johnston scored, the game was anything but close.
The confidence her goal gave the team, coupled with the power the team displayed to back it up, is how "the swaffs" nabbed the fifth spot on our list.
Boys Soccer: Junior Sepehr Hoghooghi's opening goal against Wootton, Sept. 18
The opening goal sets the tone, energizes the team and makes winning that much harder for the opponent. Fortunately, for the Bulldogs Hoghooghi carved up the Wootton defense by himself and did just that.
"We didn't expect the Wootton defense to be as solid as they were, and once we finally broke them down with that first goal, we were elated," senior captain Conor Quigley said. "That first goal lifted a weight off our chest."
This was no ordinary first goal. Hoghooghi put on a show, taking matters into his own hands, slicing through the defense by himself and netting the opening goal.
The goal was not only impressive by nature, but also the opening salvo in the shutout of our biggest rival, leaving no doubt that it belongs at number four on the list.
Varsity Cross Country: Alexis Viezis, absolute exhaustion effort, Sept 20th
Cross Country calls for an excessive amount of mental and physical strength to keep running even when the body is screaming to stop. It requires people to push themselves to their absolute limits. Few runners can do this, but even fewer are able to push beyond it.
Freshman Alexis Viezis is one of those few. During the team's annual trip to the Adidas XC race in North Carolina, a big race that attracts some of the fastest runners in the region, Viezis went above and beyond what was asked of her.
"From the parts I can remember, I was really scared because it was our first invitational," Viezis said. "Before a race, I feel a deep panic, but it all goes away after the gun shot."
Adidas is known to be a fast course because a majority of the race takes place on soft ground and contains few hills, meaning everyone running is going that much faster.
"The competition was not what I was used to," Viezis said. "I pushed myself too hard."
Viezis pushed herself so hard that as soon as she crossed the finish line, she fainted from pure depletion of energy.
She finished with a time of 20 minutes and 25 seconds, beating her personal record by one full minute. The commitment Viezis displayed, along with her excellent result prove that Viezis's run unquestionably deserves third place.
Varsity Football: Junior Andrew Zuckerman's fourth quarter 26-yard touchdown against Wootton, Sept. 19
Rival games mean bragging rights and bold pride are at stake. Fans flood the stadium which causes the on-field energy to spike even higher, and in this type of high pressure situation, big plays are that much more special.
When Zuckerman exploded with a 26-yard touchdown run against Wootton to ice the game at 35-14, it was a shoe in for our top five.
"It was a pivotal play," junior Elliot Sloate said. "The touchdown sealed the game for us."
Not only did this play shore up the Bulldogs' victory over Wootton, but it was also a launch pad for the fans' energy.
"People went crazy," Sloate said. "The whole student section was jumping, and throwing powder."
Without the touchdown, the threat of a comeback would have been much more realistic, but the blow to Wootton's confidence the score provided, along with the three touchdown lead it gave the Bulldogs, made it a clear choice for number two.
Field Hockey: Sophomore Jenny Langerman and freshman Faith Kean comeback goals to win in the last minutes versus Springbrook, Oct. 18
Pressure is highest when a team is down by one goal with only a couple of minutes to spare. It is the team's last chance to change a game. Facing this exact situation, the Bulldogs were down by one with just five minutes left in the game when Langerman scored to tie the game to 1-1, and Kean put in a rebound to cap off the score at 2-1.
"This gave us a lot of momentum as a team which powered us to score the second goal with three minutes left to win 2-1," junior Nina Kothari said.  "We knew we had to make this last one count."
Now with the game tied, senior Isabel Mangan passed the ball to senior captain Carly Kabelac who then drove the ball at the goal. The ball deflected off the goalie's pads and Kean was open at the stroke mark to push it into the bottom left corner to give Churchill the late-game lead.
"Everyone went crazy and we were beyond excited," Kothari said. "Earlier in the season it was hard for us to finish and especially hard for us to come back from a deficit. Springbrook was the last game before playoffs, so it really put us in a good state of mind. It was the perfect game to reflect all that we had accomplished this season."
In the last minutes of a game, a single goal is more valuable than diamonds, but our Bulldogs managed to snag two. Not only did they manage to pull of some incredible goals, but they also secured an impressive comeback win, ensuring the lady Bulldogs their spot as number one on our list.