Rachel Goslins announced as graduation speaker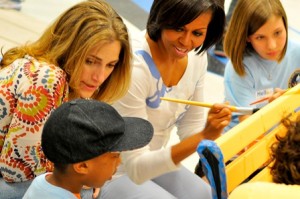 CHS chose Rachel Goslins, Executive Director of the President's Committee of the Arts and Humanities, as the guest speaker for the Class of 2013's graduation May 28 at DAR Constitution Hall.
Goslins works closely with President Barack Obama and the White House to discuss ways to improve humanities and arts throughout the US and abroad.
"You want somebody who can give a good message, and I think she is going to talk a lot about being willing to take risks and being able to follow your dreams," Class of 2013 adviser Scott Selman said.
Goslins graduated with honors from UC Santa Cruz and majored in political science.
Goslins also was active in theater and spent much of her spare time working with the arts, which gave her experience for her current job.
"I have a fantastic job," Goslins said. "I get to work with issues that I really care about like getting more arts education for kids in high poverty public schools or using the arts to reach across international boundaries. I really do wake up every day feeling lucky to work in the area that I'm passionate about."
Before working with the government, Goslins had careers in law and film directing.
"I did copyright law for the government internationally," Goslins said. "I went back to school and studied film and became a documentary film director."
Class of 2013 President Brianna Burke feels that Goslins is a good choice as the commencement speaker.
"She was very interested in getting to know me and the essence of the CHS community to capture in her commencement speech," Burke said.