Teachers plan to pursue their passions outside of CHS
Scott Selman
By Elizabeth Campbell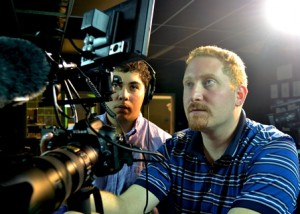 Editor-In-Chief
 If you've ever gone to Blast, a football game, Homecoming, heard the Daily Dose or walked through the CHS building, Scott Selman has affected your time in high school.
After nearly a decade as CHS' Media Service Technician and in other roles, Selman has decided to leave CHS.
"For nine years it's been my job to help teach people to follow their dreams and, at some point, you have to take your own advice," Selman said.  "I didn't come here as a teacher. I came here in a support role, but everyone in this building teaches or impacts students in some way and that's kind of been my role—to show people that it's okay to dream a little bit or take that step that maybe they are afraid to take, and sometimes you have to listen to your own advice."
This advice has led Selman to focus on his own video production company, CYM Media and Entertainment, which he started in 2009.
"I've been planning for some time to be able to grow my company and take that into full swing, and the tough part is having to be here from 7 o'clock to 3:30 everyday doesn't allow you to either travel or do some of the other things I would want to do to grow my own company," Selman said.
When Selman was first hired at CHS, it was to help with the technical side of the school's productions, but in only three short days, he had been hired full time. Since then, his job has been evolving almost daily to fit the needs of the school, starting with working on the overhead projectors in classrooms to managing the auditorium and then the Daily Dose.
Though Selman admits to overworking himself, he has created some very fond memories at CHS including proposing to his wife on the CHS stage and working with the Class of 2013.
"There are a lot of amazing students I have worked with on a one-on-one basis but, as a group, I've learned more from the Class of 2013 officers than I have working with anybody else," Selman said. "Obviously I've tried to teach them a thing or two also, but over the four years I think I've learned more from them than I have from other groups and I think that's important because part of what makes me, me is from what I've learned working with other people."
One of those officers is senior Gauri Bhatnagar, who has been able to witness firsthand the work of Selman and the effect it has on people.
"Scott Selman is a very reliable, organized person that you can always depend on," Bhatnagar said. "He is always on top of things, and helps us ensure that everything is done to perfection. Whenever he does anything from performances to fairs to even ticket sales, people commend him on how smoothly and efficiently it all goes."
In addition to the special bonds Selman has made with his students, he has also cultivated several great friendships with staff members throughout the school.
One friend in particular is Selman's self-proclaimed rock, bridge teacher Sheri Phillips who Selman worked with closely on several CHS productions.
"Scott has an energy level and an excitement level that is contagious," Phillips said. I will miss his support and kindness."
Selman's exit will not be an abrupt one, however, as he plans to stick around  to continue to work with the performing arts, as he feels he owes it to those students in the program.
"I have a great group of kids that do the theater program and do the technical program that I've helped build, and I've got an amazing group of senior leaders next year, and I wouldn't want to abandon them for their senior year," Selman said.
Selman also plans to help Class of 2014 sponsor Shelley Perrett in dealing with the monumental task of running the senior class.
"The more involved the better," Perrett said. "I need someone who knows everything, so I hope he is involved as much as he can be."
As for finding a replacement, Selman plans to be very involved with the transition. Selman has committed to helping the new person once they arrive at the school; showing them around the building and helping them learn to navigate his massive key ring.
"My goal is to make sure that I'm leaving the school in the best place possible after I go to make the transition as seamless as possible," Selman said.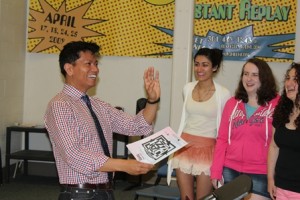 Carlos Barillo
By Julia Regan
Arts EditorJane Zankman
Production Manager
CHS will be losing one of its most beloved and inspiring teachers at the end of this school year when Carlos Barillo, choral music director of 12 years, will be continuing to share his love for helping people through pursuing a career in nursing.
Through his time at CHS, Barillo has been involved in the choral music department and the annual Blast from the Past performance.
"I think Mr. Barillo has given incredible opportunities to students through his master teaching, coaching and giving them opportunities to perform in front of a wide variety of people," Principal Joan Benz said.
Barillo is planning to pursue a Registered Nurse degree, which will involve taking classes at a community college to satisfy his prerequisites and beginning a clinical at an established nursing school.  Currently he is interested in attending Chamberlain Nursing School in Arlington, VA.
Having taught at CHS for over a decade, Barillo feels he needs to change his life path in some way.
"I'm kind of like a free bird, a free spirit," Barillo said.  "I knew I wasn't going to be able to stay in one place for a length of time.  Before teaching at a high school level, I taught at a university level,
and I also was a freelance performer, performing everywhere in the world.  I just knew that I was going to go somewhere else."
Barillo cannot make any promises about returning next year to help with school performances, as he will be extremely busy with nursing school.  However, depending on his classes, he hopes to continue working with the show choirs next year, as well as Blast.
While he assumed that his students would be disappointed, he did not expect the  reaction he received when he announced the news the night of the choral concert May 1.  According to Barillo, he still has a bruised ribcage from Showstoppers hugging him so hard.
"I knew that there would be sadness, I knew that there would be tears, and I knew that there would be questions," Barillo said.  "It's humbling."
One of the things he will miss most about CHS is his connection with his students.
"I'm going to miss his personality and the way he makes us laugh," junior Nicole Gonzalez said.  "I'm mostly going to miss his creative ideas, his choreography, and the way he treats us."
Barillo looks back positively on his experience at CHS.  He hopes to have successfully shown his students his passion for music.
"You can teach, teach, teach as much as you want, but I think it's important to show your passion and show what you're made of," Barillo said.  "By me leaving, it shows that you can still pursue a different career from what you started. It's possible."
Michael Foo
By Emily Birnbaum
Editor-In-Chief
Michael Foo has been CHS' respected photography teacher for 33 years. He has helped countless aspiring photographers mature, proudly watching many pursue majors and, eventually, careers in photography. After all these years of relentless hard work and involved teaching, he has decided it is time to retire.
He is not finished working, however. While he is retiring from photography, he has decided to start his own graphics business.
"I decided to retire last year and pursue my other interest," Foo said.
The news of Foo's retirement has been surrounded by nervous rumors, as students worry about the future of CHS' photography department.
According to Principal Joan Benz, the school is currently looking for Foo's replacement and promises that the photography department will survive.
In order to commemorate his leaving, his AP Photography class threw him a party on May 6, a celebration of both his birthday and retirement.
According to junior Adam Anderson, the class brought in balloons, cakes and a huge card which the class signed.
"He is the funniest person on Earth," Anderson said. "I am sad that he's leaving."
Foo is not only known for his humor. His enthusiasm for photography has been known to rub off on his students.
"He made photography something I really enjoyed because he loves photography and is so good at it, so he shares his passion with his students," junior Lauren Feinberg said.
According to Benz, he has not only excelled in his teaching: he has also helped CHS through favors he does for the school.
"If we need calligraphy for certificates, he is right there and they look beautiful," Benz said. "He is going to be missed."
Dave Kelley
By Emily Birnbaum
Dave Kelley has worked as a coach, teacher and athletic director for the CHS athletic department, and after 15 years of work, he will retire at the end of this year.
As of now, he plans to accept a part-time coaching job at the Soccer Association of Columbia, MD (SAC). He will mainly coach for their under-14 boys program, which is part of the U.S. Soccer Developmental Academy.
"I decided to retire back in late fall," Kelley said. "A friend of mine, John Ellenger, is a soccer director for SAC. It will be good to get back into coaching and work with a friend of mine."
Besides looking forward to getting back into coaching, which he refers to as his "love," Kelley is drawn to SAC because it is part-time work. After working full-time at CHS for so
long, he looks forward to being able to slow down and relax.
He also plans to work on fully recovering from the knee-replacement surgery he underwent in January, and is glad to have more time to play golf and not have to wake up early.
According to Principal Joan Benz, while the athletic department will not experience any drastic changes under the new director, who has not yet been chosen, the school will surely feel the loss of Kelley's leadership.
"The school will adjust, but his knowledge and expertise will be hard to replace," physical education teacher Don Higgins said. "Mr. Kelley knew what coaches needed, parents wanted and the support teams required."