Berliner would use gas tax for transportation projects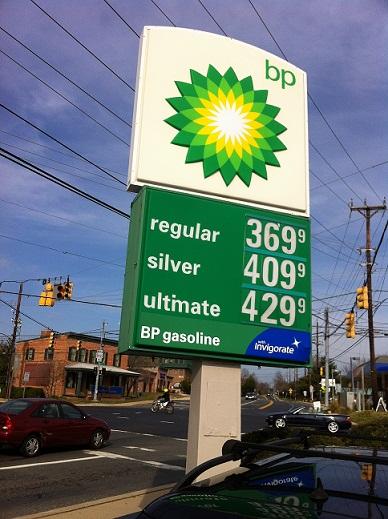 Montgomery County Council President Roger Berliner has proposed that the Maryland state legislature grant county lawmakers the power to impose their own gasoline tax. The money collected from this tax would be used for a number of critical transportation programs throughout the county, including the Purple Line, the Corridor Cities Transitway and a bus rapid transit (BRT) network.
"Our county must deal with the ever-present issue of rebuilding, strengthening and expanding our infrastructure to accommodate new businesses and residents alike," Berliner wrote in an email.  "New projects are planned that would alleviate congestion, ease commutes and improve the overall efficiency of our infrastructure."
One proposed transportation project is the Purple Line, a 16-mile light rail line that will serve as an east-west route connector for Montgomery and Prince George's Counties.  The Purple Line will be pedestrian-friendly to integrate well with the surrounding communities.  It will also provide a direct link to the University of Maryland in Prince George's County.  The project is expected to cost $1.92 billion.
Senior Peyton Elmendorf, who often uses public transportation like the Metro to get around Montgomery County and Washington, D.C., believes that this proposed tax is unnecessary.
"I think that the gas prices are high enough as they are, and the county should find a different source of money for the transportation projects," Elmendorf said.
The Corridor Cities Transitway is another proposed transit line.  It will run north from the Shady Grove Metro Station to serve the Rockville, Gaithersburg, Germantown and Clarksburg communities.  It will cost $491 million and will provide a direct connection between the end of the Red Line and the COMSAT facility in Clarksburg.
According to an Oct. 10 article in the Washington Examiner, Johns Hopkins University's plans for a research and development campus near Gaithersburg are dependent on the Corridor Cities Transitway being constructed.
The county is also planning a BRT network that will improve accessibility, as buses will operate on rights-of-way that are separated from the general-purpose lanes used by automobiles.  This project will allow for faster movement of people to and from their jobs and homes and will cost $1.8 billion.
"We need the state to step up and provide an increase in transportation dollars or all of these projects critical to our county's future will be at risk," Berliner wrote.  "If and only if the state fails to find a revenue source that could fund our transportation needs then I have suggested that we move on to Plan B.  Plan B would include getting additional authority from the state to pursue local funding options."
According to an Oct. 8 article in Washington Examiner, in 2011 a state panel recommended a five-cent increase in the gas tax each year for three years in order to fund the necessary transportation projects.  During the spring legislative session, Governor Martin O'Malley backed a six percent sales tax on gasoline that did not have enough support to pass.
"If granted the authority, a future County Council would determine whether and how to invoke that authority after public hearings and a full public vetting process, and if it were to do so, how the dollars generated by such local authority would be allocated among our transportation priorities," Berliner wrote.
Senior Sean Dunn, who pays for her car's gas, believes that the money collected from this proposed additional tax would benefit our community by making transportation more easily accessible.
"I support the tax because in the end it will make transportation a lot more convenient in the D.C. Metro area, but it definitely will make me more frugal with my driving habits," Dunn said.  "If my gas totals end up being a significant amount more, I'll probably think twice about driving places and try to carpool or take the bus."