WCHS English teacher publishes young adult novel series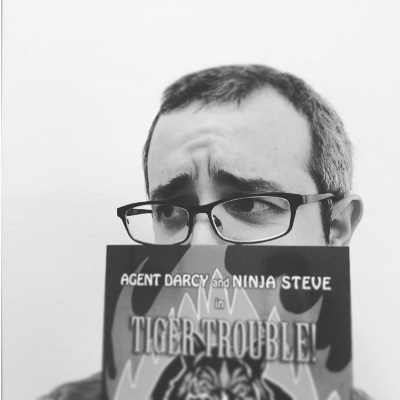 If you've had English 9 teacher Grant Goodman, you may be familiar with his work as an author. Goodman is currently working on the fourth book in his series "Agent Darcy and Ninja Steve," in addition to a sci-fi novel for high school students.
Goodman first pursued his passion for writing in the second grade. His first story was about a spider superhero by the name of Super Spider, which he considered a total copy of Spiderman. Though Super Spider was never published for Goodman, it was the start of a bright future for writing.
The "Agent Darcy and Ninja Steve" series has three completed books. According to Goodman, his favorite is the third book, Mecha-Mole Mayhem because he now has "a better sense of how stories fit together" compared to his first two books. Goodman's book series is about Agent Darcy, a thirteen year old at the Bureau of Sneakery, and Ninja Steve, a ninja residing in Ninjastoria. Darcy becomes an exchange student in Ninjastoria and from there the two become friends.
Besides being an author, Mr. Goodman is also an English 9 teacher at WCHS. During the school year he tries to write once or twice a week, but he finds it challenging to work on during the school year because he has to plan lessons, grade and enjoy his personal time. Most of Goodman's writing time comes during the summer.
According to Goodman, his writing process is complex and he begins by thinking of creative and interesting ideas. The "Agent Darcy and Ninja Steve" books originally started out as a grammar warm-up; his students enjoyed the stories and that is when he turned them into a series. Goodman wants to make sure his main characters have clear, understandable goals and that the readers can connect to the characters.
Goodman originally had trouble finding a publisher.. Goodman discovered the Amazon Independent Publishing program and started publishing his work on there. He enjoys how his book is available on paperback and Kindle.
Goodman has a team who helps him produce his work. He's hired a designer to create book covers for him, as well as an editor to aid him. He mentions that his the additional help has been beneficial and has really sustained his interest in writing.
Besides buying books from Amazon or his website, https://www.grantgoodmanbooks.com, you can also check him out at the Baltimore Book Festival.
"[The festival is a] really good place to meet families with young readers and just to learn about other books that are meant for a similar age group," Goodman said. "It's nice to see what other exciting stories are out there."
As he reflected on his childhood, Goodman mentioned how he relied on a lot of cliches. Goodman believes you have to use cliches in order to get past them. The more stories you write over time, the better you will get in the long run.
"The more stories you write, the more you will find a way to make your stories original," Goodman said. "A lot of what I wrote when I was younger, was me imitating and borrowing other people's plot devices."