Athlete of the Month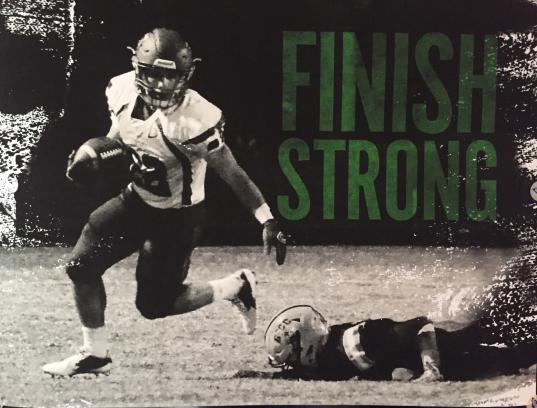 2,875. This number represents the previous CHS career rushing yards record held by Mark Mason. This record stood for over 20 years until senior Andrew Zuckerman finished this football season with 1,863 yards, pushing his career total to 2,952.
Zuckerman was a workhorse for the Bulldogs all year. Despite the team's struggles, he consistently put up impressive numbers. In every game except for one he had over 20 carries, including a season high 42 against Blair Sept. 25.
"He practices and plays with incredible passion," head coach Albert Song said.
Despite the bulldogs' 2-8 record Zuckerman was the heart and soul of this year's team according to Song. His presence on offense was unmatched, and his consistent high-caliber play won him the county rushing title over Damascus running back and University of Maryland commit senior Jake Funk.
According to Song, Zuckerman has had a "huge impact on and off the field," and has "obviously carried the team on his back" all season long.
Football has been a big part of Zuckerman's life. He began playing flag football at age 5 and began tackle football at age 9.
"Football is to Andrew as Dr. Benz is to Churchill," Zuckerman said.
Zuckerman has a passion for football that few people understand. He has dedicated countless hours to developing his skills in order to improve every aspect of his game.
"Football has played a huge role in Andrew's childhood; it's always been his top priority," Karen Zuckerman, Andrew's mother, said. "He has put his heart and soul into the sport from the beginning."
Even in the off-season, Zuckerman dedicates his time to getting better and taking his game to the next level. He spends four days a week at Sarge Athletics in Urbana working with a personal trainer improving not only his strength, but his speed and footwork as well.
According to Karen, he "never misses an opportunity to train," and "is very careful about what he eats."
During his sophomore year, Zuckerman's parents began taking him to college football camps in the summer. This was his first introduction to NCAA sports and his inspiration to try and achieve the next level of football excellence.
"For me, it's all about exceeding expectations, so I welcome any underestimations about how I perform," Zuckerman said.
Zuckerman is an all-around athlete. Despite time running track and playing baseball, basketball, tennis, golf and even lacrosse, there has never been any doubt that football is his main focus.
"Once I pass the goal line, the shiver down my spine is what gets me. Zuckerman said.  There's nothing like it."
This season Zuckerman has shined for the Bulldogs and has proven himself as arguably the best running back in school history. With monstrous numbers in nearly every game and an inconceivably large workload, Zuckerman exemplifies the title of Athlete of the Month.
"Watching him play this year has been awesome," Karen said. "I'm in awe of some of his performances, but those accomplishments don't hold a candle to our pride at the way he carries himself and treats others."