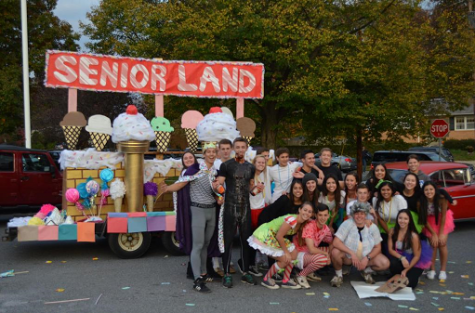 By Alissa Li, Observations Editor

November 21, 2014
Throughout Spirit Week, CHS students fought valiantly to have their class crowned as the best in numerous competitions: Coin Wars, Spirit Week, Murals and Float Performances. The juniors won the mural competition, but the seniors retaliated by winning the float performance and overall spirit week....
By Katie Gauch and Katherine Michael

October 11, 2013
By Julia Heimlich, News Editor

October 9, 2013
The CHS senior class came in first place during Monday Night Madness, a spirit week event hosted Oct. 7. Held on the auditorium stage, all students who attended had the chance to participate either on stage in one of the events, or through cheering their class on in the audience.  Games included...
Winston Churchill High School

63

Mar 4 / Girls Basketball

Winston Churchill High School

72

Mar 2 / Girls Basketball

Winston Churchill High School

60

Feb 21 / Girls Basketball

Winston Churchill High School

65

Feb 21 / Boys Basketball

Winston Churchill High School

73

Feb 7 / Boys Basketball

Winston Churchill High School

55

Jan 24 / Boys Basketball

Winston Churchill High School

53

Jan 24 / Girls Basketball

Winston Churchill High School

62

Jan 15 / Boys Basketball

Winston Churchill High School

72

Jan 15 / Girls Basketball

Winston Churchill High School

64

Jan 10 / Boys Basketball
The Churchill Observer- May 2018