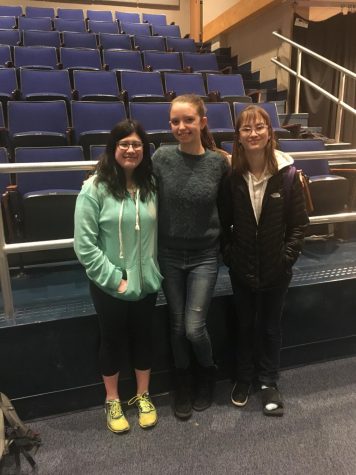 By Jordyn Green, Assistant Online Editor-in-Chief

May 13, 2018

Filed under Observations, Top Stories
CHS can be one of the most stressful places there is, so it's often hard to find a place to relax. The THRIVE club, whose main goal is to make CHS a more positive environment, decided to hold a lunchtime meditation Apr. 20. The meditation was led by guidance counselor Makeyda  Soriano, who me...
By Sai Sreenivasan, Observations Editor

January 11, 2017

Filed under Opinions
To the general public, mediation is sometimes considered an odd practice of introspection. There are misconceptions of meditation as a practice wherein one sits cross-legged repeating "ommm" in order to clear the mind. However, with some elementary schoolers, meditation has become an effective...
Friday, November 9

Varsity Football

Winston Churchill High School 20 - Northwest High School 56

Friday, November 9

Varsity Football

Winston Churchill High School 20 - Northwest 56

Monday, November 5

Varsity Field Hockey

Winston Churchill High School 0 - Dulaney 2

Monday, November 5

Girls Varsity Volleyball

Winston Churchill High School 0 - B-CC 3

Friday, November 2

Varsity Soccer

Winston Churchill High School 0 - Whitman 3

Thursday, November 1

Girls Varsity Soccer

Winston Churchill High School 0 - Whitman 2

Friday, October 19

Boys Varsity Soccer

Winston Churchill High School 3 - Kennedy 1

Friday, October 19

Varsity Football

Winston Churchill High School 42 - Seneca Valley 6

Thursday, October 18

Girls Varsity Field Hockey

Winston Churchill High School 1 - Blake 3

Wednesday, October 17

Girls Varsity Soccer

Winston Churchill High School 6 - Blair 0
The Churchill Observer- May 2018