By Lauren Roseman, Senior Writer

April 17, 2017
The Slam Poetry Club, Forensics Club and Literary Magazine are holding an Open Mic Night on April 24, 2017. According to Slam Poetry Club President Lauren Hassan, students will get a chance to show their artistic and literary skill on this night. "People will read poe...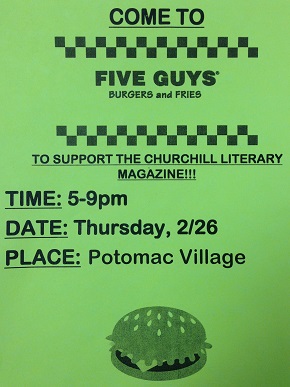 By Julia Heimlich, Features Editor

March 3, 2015
What do burgers, fries and CHS writers have in common? All three will be present at Five Guys in the Potomac Village Feb. 26 from 5 to 9 p.m. Be sure to mention the CHS Literary Magazine at the cash register, and 15 percent of the profit will go to helping support the publication. "I'm excited...
Wednesday, May 15

Varsity Lacrosse

Winston Churchill High School 6 - Richard Montgomery High School 5

Monday, May 13

Varsity Lacrosse

Winston Churchill High School 16 - BCC 3

Friday, May 10

Varsity Lacrosse

Winston Churchill High School 13 - Walter Johnson High School 1

Monday, May 6

Varsity Softball

Winston Churchill High School 11 - Clarksburg High School 14

Friday, May 3

Varsity Baseball

Winston Churchill High School 11 - Magruder High School 2

Friday, May 3

Varsity Softball

Winston Churchill High School 24 - Seneca Valley High School 9

Tuesday, April 30

Varsity Lacrosse

Winston Churchill High School 8 - Damascus High School 15

Saturday, April 27

Varsity Lacrosse

Winston Churchill High School 4 - Richard Montgomery High School 6

Tuesday, April 23

Varsity Lacrosse

Winston Churchill High School 12 - Quince Orchard High School 2

Wednesday, April 17

Varsity Baseball

Winston Churchill High School 13 - Gaithersburg High School 3
The Churchill Observer- May 2018