Literary Magazine Fundraiser at Five Guys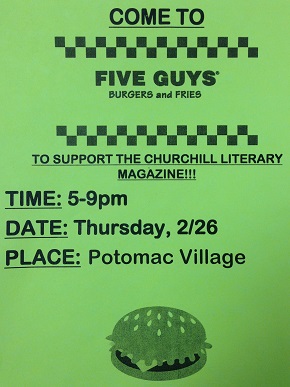 What do burgers, fries and CHS writers have in common? All three will be present at Five Guys in the Potomac Village Feb. 26 from 5 to 9 p.m.
Be sure to mention the CHS Literary Magazine at the cash register, and 15 percent of the profit will go to helping support the publication.
"I'm excited for Five Guys to help raise not just money, but awareness of the class," senior Jordan Lewis said.
According to Literary Magazine advisor Christin Nixon, the publication is on board to be published in late April or early May.