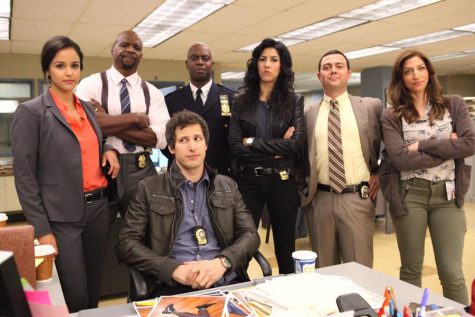 By Olivia Yasharoff, Staff Writer

March 14, 2019
"Noice." "Smort." "Cool, cool, cool." These phrases can all be used to describe NBC's hit comedy "Brooklyn Nine-Nine" in addition to being the lingo that the characters on the show (and its fans) love to use. Starring comedian Andy Samberg, actor Andre Braugher and actress Melissa Fumero...
By Caitlin Doherty, Circulation Manager

January 2, 2014
One Direction Album: The boys are back! A week after its album was accidently leaked, One Direction released Midnight Memories Nov. 25, much to the delight of 1-D fanatics. It became the fastest-selling album of 2013 with 237,000 copies sold in its first week. The album includes 14 catchy pop-rock s...
Friday, January 24

Boys Basketball

Winston Churchill High School 55 - Whitman 56

Friday, January 24

Girls Basketball

Winston Churchill High School 53 - Whitman 33

Wednesday, January 15

Boys Basketball

Winston Churchill High School 62 - Whitman 58

Wednesday, January 15

Girls Basketball

Winston Churchill High School 72 - Whitman 29

Friday, January 10

Boys Basketball

Winston Churchill High School 64 - Wootton 50

Tuesday, January 7

Girls Basketball

Winston Churchill High School 65 - WJ 30

Friday, January 3

Boys Basketball

Winston Churchill High School 72 - Einstein 35

Wednesday, December 18

Girls Basketball

Winston Churchill High School 67 - Kennedy 14

Friday, December 13

Boys Basketball

Winston Churchill High School 61 - Springbrook 71

Friday, December 13

Girls Basketball

Winston Churchill High School 74 - Springbrook 12

Tuesday, December 10

Girls Basketball

Winston Churchill High School 59 - Urbana 26

Tuesday, December 10

Boys Basketball

Winston Churchill High School 69 - Urbana 60
The Churchill Observer- May 2018