Volleyball Digs their Way to a Winning Season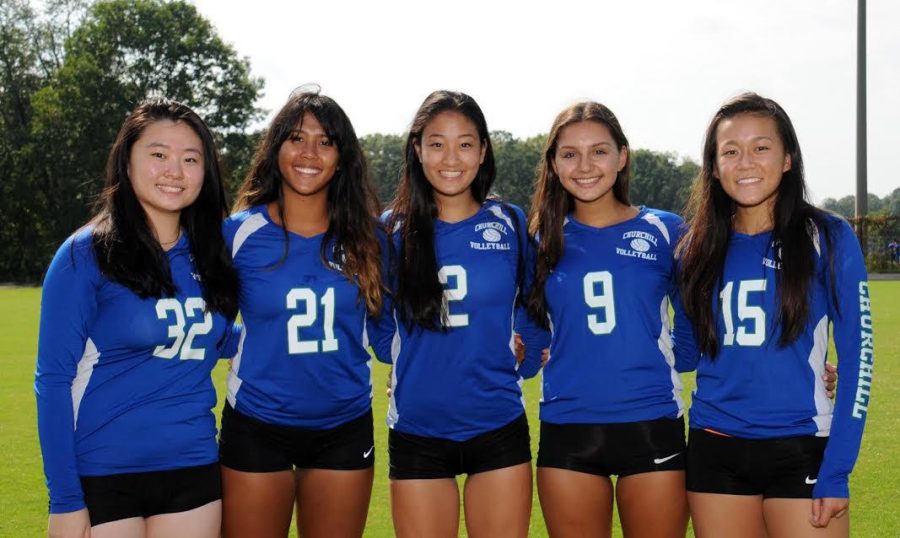 Crowded around the steam sizzling off the juicy Korean barbeque at Honey Pig, the girls' volleyball team reflected upon a season well done. The team concluded with a successful regular season finishing with a record of 18-1 and a postseason that made it all the way to regional finals.
During their regular season, the team's only loss was a five set loss (2-3) against Sherwood.
"It was a night of ups and downs both emotionally and on play," head coach Cindy Hillard said. "The biggest thing we took away from that match was to pull together as a team when we start to get down, which we needed for our 3-2 win over Blair."
According to senior captain Emma Jin, the team lost against Sherwood because they did not believe in themselves enough or play to their fullest potential.
They learned from their loss in order to emerge victorious in their next game against Blair.
"Our team fought till the very end of the 5th set during the Blair game and did not give up," Jin said. "Communication was the key to winning."
Though the team's regular season record matched last year's, their competition was much stronger this year. A key component to this year's continued success was that the team's camaraderie had developed into tight knit team play.
"We are stronger as a team than we are individually," Hillard said. "[The girls] need to depend on each other, and they know they can."
The bulldogs are undersized by volleyball standards with most of the team standing under 5'8'' and the tallest being 5'10" junior Anna Mollard. However, the height deficit does not stop them from facing taller opponents head on.
"In volleyball, height is usually directly correlated to hitting hard and playing well," senior captain Nina Gautam said. "However, we compensate by training hard, staying in shape, moving quickly and having really good defense."
The team consistently competes against teams with 6'1" and 6'2" players and their ability to win is a testament to the strength of whole team.
The bulldogs have one of the strongest defenses in the county with a reliable libero (the rearmost defensive specialist). Junior Michelle Tai, starting libero, leads in MCPS with 245 digs (a forearm receive). Additionally, outside hitter, Nina Gautam, and defense specialist, junior Grace Xia, have 170 and 118 digs respectively.
According to Tai, her coach and teammates have supported her and elevated her level of play. She attributes the team's strong defense to the hours spent practicing different defensive setups and scenarios.
"This much defense is what has helped us win against these huge teams," Hillard said.
As the team headed into the postseason, they continued to strengthen their team bonds and follow guidance from their supportive coach and captains.
In the region finals, the team lost to Northwest 0-3.
According to Jin, the team fought through every match with pride and had fun through it all. Though it was a sad loss to Northwest, each year the team gets closer and closer to success and will hopefully get to achieve that in the future.
Even though the season has come to a close, the captains have wishes and hopes for next year.
"Next year I would love to see the team's bond and spirit remain the same or, for better, to increase and become stronger as a whole," Jin said.